March of 2020, 5 concerned dads began an exhaustive journey into 'how the immune system works.' Finding most products claiming 'immunity' fell short.
(PRUnderground) February 1st, 2021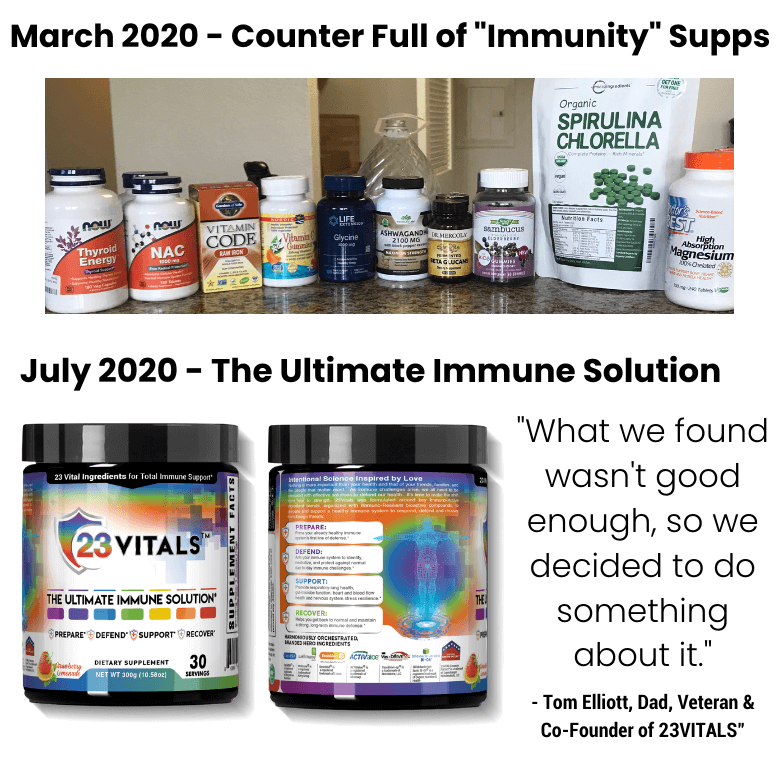 While 23VITALS addresses the commonly deficient micronutrients known to impact the immune system's general health positively, they took it one step further.
Identifying each core function of the Immune System and creating a specific matrix to deliver "sophisticated information" in the form of an orchestrated symphony of naturally occurring "Immuno-Potentiating" bioactive compounds.
BEYOND just "supporting" or "boosting"… –> THINK OPTIMIZATION
23VITALS™ contains a uniquely curated formula. The four bioactive ingredient blends collectively provide the immune system with supercharged fuel sources –> to function aggressively to early challenges to neutralize any threats by activating the production of individual critical cells of the innate arm of the immune system.
While also providing the fuel sources to help create more "fertile soil" – creating a supercharged environment to improve communication between all parts. Alongside a coordinated congregation of T and B-cells culminating in the production of immunoglobulins (antibodies) that are "educated/trained/remodeled/rejuvenated" to recognize any threats, present or future, more efficiently.
They've taken a refreshingly transparent approach, shining a light on the negative impacts of stress – while bringing awareness around things to do proactively – to help minimize stressors – along with tips on how to manage energy and anxiety better.
There is a detailed breakdown of each unique blend and matrix within their formulation page. They are connecting the formula's decisions to each of the four primary missions our Immune System has – to keep us healthy and protected from foreign threats.
VITAL INNATE IMMUNO-RESILIENCE BLEND
This clinically research-backed Innate Immuno-Resilient blend of 23Vitals focuses on priming & fortifying your innate immune system to work at optimal levels BEFORE immune challenges are present. This powerful blend is filled with superstar and patented ingredients at clinically studied, efficacious doses to correctly deliver the tools necessary to train and optimize your innate immune system to be "resilient" and "anti-fragile."
VITAL ADAPTIVE IMMUNO-DEFEND MATRIX
The adaptive immuno-defend matrix is specifically designed with bioactive compounds that work with your immune system and enhance its ability to fight off foreign microorganisms as the first line of defense with nutraceutical preparation. These all-natural ingredients have been studied and proven to initiate and signal your body's adaptive (high specificity, selectivity, and memory) response and make it work better!
ORGAN SYSTEM, BLOOD FLOW & CYTOKINE WELLNESS MATRIX
This whole-body, multi-organ wellness matrix helps address all the other systems in the body that communicate and "talk" to the immune system and beyond. These ingredients help sustain and fortify an already comprehensive formula to deliver the ultimate immune solution.
IMMUNO-VITAMINS & MINERALS FOUNDATIONAL BLEND
A strong and healthy immune system relies on essential vitamins and minerals to maintain proper functionality, white blood cell turnover, replication, cellular communication, and signaling. This matrix includes some of the cornerstone vitamins/minerals that have been shown to fortify immune function, response, and recovery.
Somehow, they've managed to make this taste great, from a glance at their reviews, people are loving it.
I'm sure we'll be hearing more about 23VITALS™, can't wait to order some for the family!
Disclaimer: The statements made regarding this product have not been evaluated by the Food and Drug Administration. The efficacy of these products has not been confirmed by FDA-approved research. These products are not intended to diagnose, treat, cure or prevent any disease. All information presented here is not meant as a substitute for or alternative to information from healthcare practitioners. Please consult your doctor before using any product. The news site hosting this press release is not associated with 23VITALS. It is merely publishing a press release announcement submitted by a company, without any stated or implied endorsement of the product or service.
About 23VITALS
The post 23VITALS™, a Daily Fuel for Total Immune System Optimization has Set a New Standard for Immunity first appeared on PRUnderground.
Press Contact
Name: Tom Elliott

Phone: +1-855-278-5057

Email: Contact Us

Website: https://23vitals.com/
Original Press Release.