Building off a year of growing interest and rave reviews Magu Foods are more than happy to be taking care of the healthy snack bags for this year's Oscar Nominees.
(PRUnderground) January 29th, 2020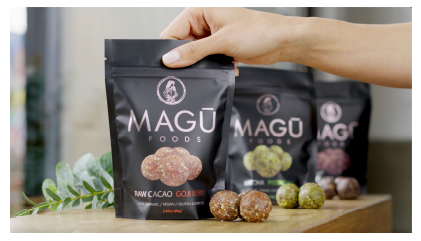 Magu Foods have been praised as being a "new snacking obsession" and it is easy to see why. Both healthy and delicious, Magu Foods are best known for their well-loved and always in-demand plant based and gluten-free protein balls. 
In exciting news, the New York-based company, recently announced that they will be sponsoring the goodie bags for the 2020 Oscars nominees featuring Leonardo DiCaprio, Joaquin Phoenix, Brad Pitt, Margot Robbie, Scarlett Johansson. The glamorous ceremony will take place on Sunday, February 9th at the Dolby Theatre in Los Angeles. 
"Our company's mission is to offer consumers a highly nutritious and convenient snack, so delicious that they'd never guess it delivers a good source of protein and other ingredients that support brain and gut health," commented Lorena Menghia, the founder of Magu Foods. "We firmly believe that the business of a business is to improve the world. We need to look after nature so it can continue to look after us. That's why all our ingredients are organic and ethically sourced. The fact that the food menu at the 2020 Oscars will be all plant-based is an amazing development and we are proud to be part of this kind of initiative by having our vegan snacks in the goodies bags for the nominees!"
This opportunity builds off of 2019's success for the brand, with highlights that include last year sponsorship of the gift bags for the Golden Globes nominees and having their snacks featured on CBS Los Angeles. 
The combination of amazing reviews and coverage has seen Magu Foods expand into the Southern California market, with the snacks now being featured at top stores like Erewhon and SunLife Organics.
For more information be sure to visit https://www.magufoods.com.
About Magu Foods
Here at Magu Foods we produces and sell superfood based, vegan snacks. Our mission is to offer consumers a healthy snack, and educate them on the importance of living a healthy lifestyle through nutrition and staying active.
Press Contact
Name: Lorena Menghia

Phone: +393511748173

Email: Lorena@magufoods.com

Website: https://www.magufoods.com
Original Press Release.