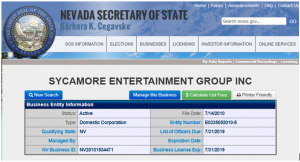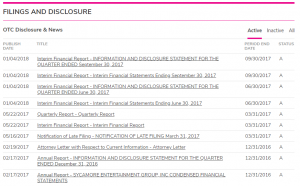 Sycamore Entertainment Group, Inc. (OTCBB:SEGI)
VANCOUVER, BC, CANADA, October 3, 2018 /
EINPresswire.com
/ --
stocksawareness.com
, a leading company focusing in stocks with massive potential, reports on
Sycamore Entertainment Group, Inc. (
OTC: SEGI
)
Motion Picture Distribution & Marketing – About SEGI
Sycamore Entertainment Group represents a strategic advancement on the film distribution model. Investors will have lower downside risk with a higher upside potential than with the traditional Hollywood studio model.
SYCAMORE'S OVERALL FILM MARKETING AND DISTRIBUTION CAPABILITIES INCLUDE:
• film acquisitions
• publicity
• print advertising
• billboard advertising
• film distribution
• online marketing
OUR PRODUCT
Sycamore helps develop, nurture and groom young, up-and-coming talented film makers and producers passionate about the industry. We assist them in the realization of their projects and the development of their motion pictures at all stages of the creative process. Our goal is to recognize the most promising of these young filmmakers and foster long-term relationships with them by engaging in one or more of the following activities:
• reading scripts
• critiquing pitches for film ideas
• having scripts and film pitches submitted
• showcasing new filmmakers in competitions conducted online resulting in the top contenders having the opportunity to assist in the direction of their film projects
• reviewing short films directed or produced by young film makers
Conclusion
Sycamore Entertainment Group, Inc. will not be at .0003 much longer. The company tweeted via twitter the following "I have been getting some inquiries regarding an update over the past few days. I assure you all we will bring the news. As I stated a few posts ago. The heavy lifting is behind us now. We are working with Henry and his group to update everyone ASAP #SEGI"
https://twitter.com/sycamorefilms/status/1047203624370167808
The tweet above is hinting that possible news are on the way for this week. Now that the company is active and is filing with the otc markets to be pink current, the stock price should see some appreciation.
Sycamore Entertainment Group, Inc. Contact Information:
www.sycamoreentertainment.com
info@sycamoreentertainment.com
https://twitter.com/sycamorefilms
https://www.instagram.com/sycamorefilms/
StocksAwareness Recent Articles and Video Interviews:
$FUSZ nFusz, Inc. CEO Rory J. Cutaia's Interview
nFusz, Inc. (FUSZ)- Potential Acquisition Candidate
https://stocksawareness.com/sa-newswire
Com-Guard.com, Inc. Dr. Edward Savarese Interviewed Via StockAwareness.com
https://stocksawareness.com/sa-newswire
https://youtu.be/9JrPcTbSIKc
CGUD – Com-Guard, Inc. (OTC Pink: CGUD), To File White Paper for Upcoming Product and Implements...
http://www.icontact-archive.com/Rkt6QvLopAyjg8BLdysl-CbfGxGWJlOX?w=3
Solar Wind Energy Tower, Inc. (
OTC: SWET
) Breaking Material Events Unfolding
About StocksAwareness
StocksAwareness a leading company focusing in undervalued stocks. We identify this stocks and bring awareness to the market. We are experts on identifying stocks that we believe should not be at low levels. Our goal is to find gems for all our subscribers and potential subscribers. All information contained herein as well as on the StocksAwareness website is obtained from sources believed to be reliable but not guaranteed to be accurate or all-inclusive. All material is for informational purposes only, is only the opinion of StocksAwareness and should not be construed as an offer or solicitation to buy or sell securities. The information may include certain forward-looking statements, which may be affected by unforeseen circumstances and or certain risks. StocksAwareness.com, or its associates will NEVER accept free trading or restricted shares. Stocksawareness did not receive any compensation to release this article. please consult an investment professional before investing in anything viewed within this article or any other portion of StocksAwareness.
StocksAwareness Web Site and Social media:
https://stocksawareness.com/
https://twitter.com/StocksAwareness
https://www.facebook.com/StocksAwareness/
https://www.instagram.com/stocksawareness/
https://www.youtube.com/channel/UCLj0zNznqm8a6GYYN1PcXaw/featured?disable_polymer=1
Matthew Garcia
StocksAwareness
702-623-0553
email us here