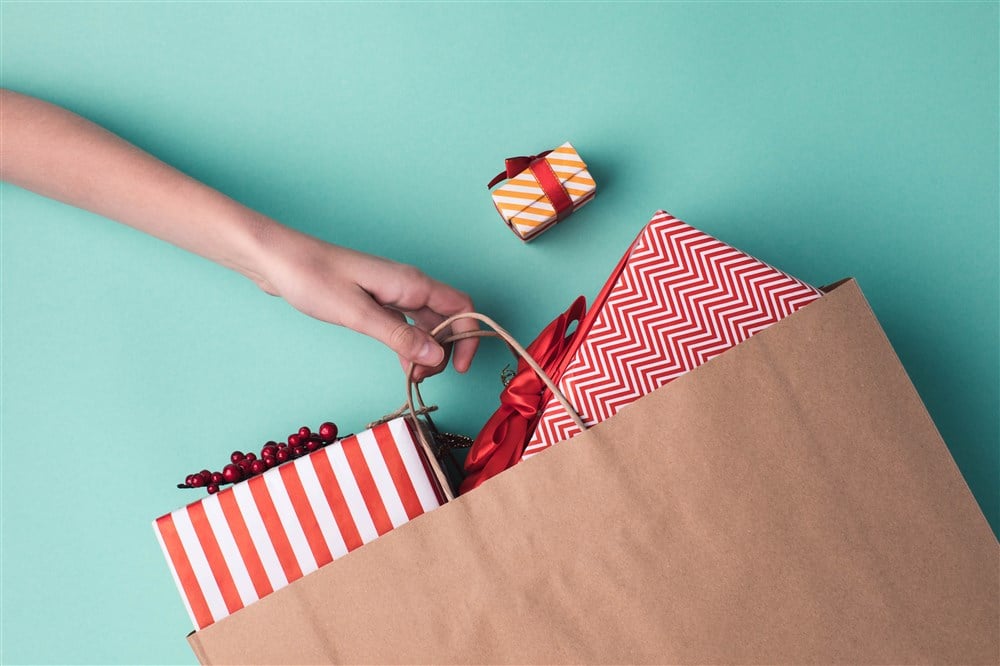 The 2023 holiday shopping season is fast approaching, and the expectations are for a sluggish season. Surveys from numerous consumer watchdogs suggest consumers continue to cut spending and plan to be frugal during the holidays. While growth is expected, the low to mid-single-digit pace aligns with inflation, which has underpinned the top-line for retailers the last two years. As it is, volume is expected to remain relatively flat; the question is, which retailers will see the most shoppers and produce the best margins? 
eCommerce Will Be the Area of Strength
Total sales for November to January are expected in the low single digits, but eCommerce will more than double that pace. eCommerce is supported by widening Internet use, deepening penetration of existing users' retail spending, and a lean into DTC by many consumer goods manufacturers. Nike (NYSE: NKE) is an excellent example, as it has used DTC and digital to invigorate a new age of growth. 
Nike's DTC channel, Nike Direct, led the company's Q2 results, with sales up 15% to offset a 2% decline in Wholesale. Nike Digital grew by 14% and should remain solid this year. The takeaway is that merchants with a healthy DTC/digital channel stand to fare better than those who don't, and those leaning into CRM with companies like Salesforce.com (NASDAQ:  CRM) will do the best.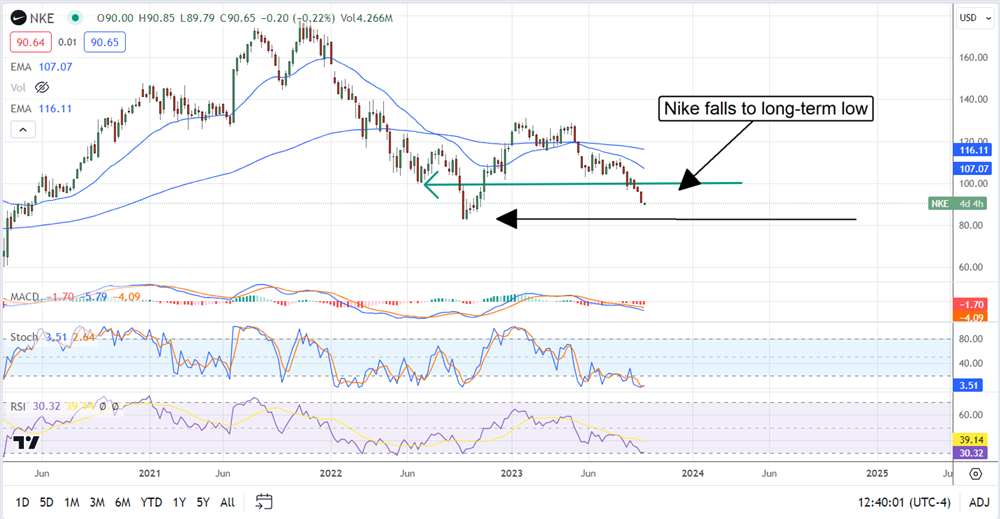 Off-Price Retail Is In A Solid Position
The off-price retailers began to show their strengths in Q2, with many outperforming. Names like The TJX Companies (NYSE: TJX) grew on a YOY basis, and in categories the major brands did not. Names like Walmart and Target reported weak sales in home goods and discretionary categories as consumers shifted full-price spending to necessities; TJX Companies grew by 7.7%, with strength in all brands driven by traffic, not price increases. 
The takeaway is that consumers are still healthy but far more value-minded than during the pandemic, and TJX Companies has some pricing power. That puts it and other off-price retailers in an excellent position to capture traffic this holiday season.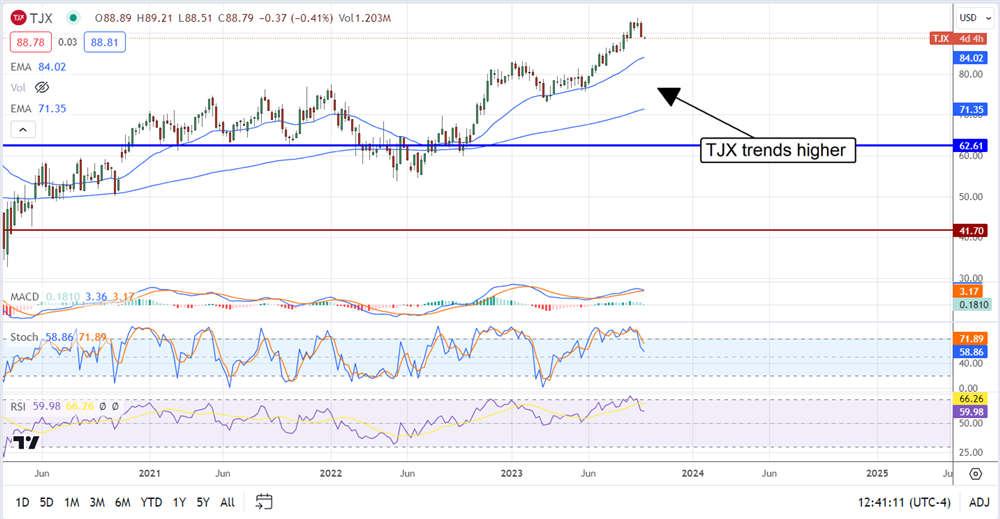 Web-Based Home Goods Retailers Look Good 
Data from the web-based home goods retailers suggests they are well-positioned ahead of the holiday season. The details include mixed top and bottom line results; most contracted compared to last year, but margins were strong, and industry normalization is at hand. The guidance is also favorable if viewed as cautious by analysts. 
The analysts' sentiment for the group also shows signs of bottoming, with the consensus for Wayfair (NYSE: W) doubling within weeks of its Q2 release and others trending higher. Other names to watch out for include RH (NYSE: RH), Williams-Sonoma (NYSE: WSM) (the only dividend-paying name), Arhaus (NASDAQ: ARHS), and Overstock.com (NASDAQ: OSTK). Overstock.com will be interesting to watch because of its recent purchase of the Bed Bath & Beyond logo. 
Target Lost Ground in Q2, That Trend Could Continue
The biggest loser from Q2 retail earnings was Target. The company lost share to Walmart, big grocery, and off-price retail, posting a near 5% decline in YOY revenue. The only good news is that the margin improved significantly due to inventory reduction and cost-saving measures. The company is working on a turn-around, but it may take more than a quarter to effect, so more weakness should be expected. However, the analysts have been lowering their targets for revenue and earnings, so the bar is low. Outperformance is possible, but its quality as a stock price catalyst is relative to performance compared to last year and the other retailers.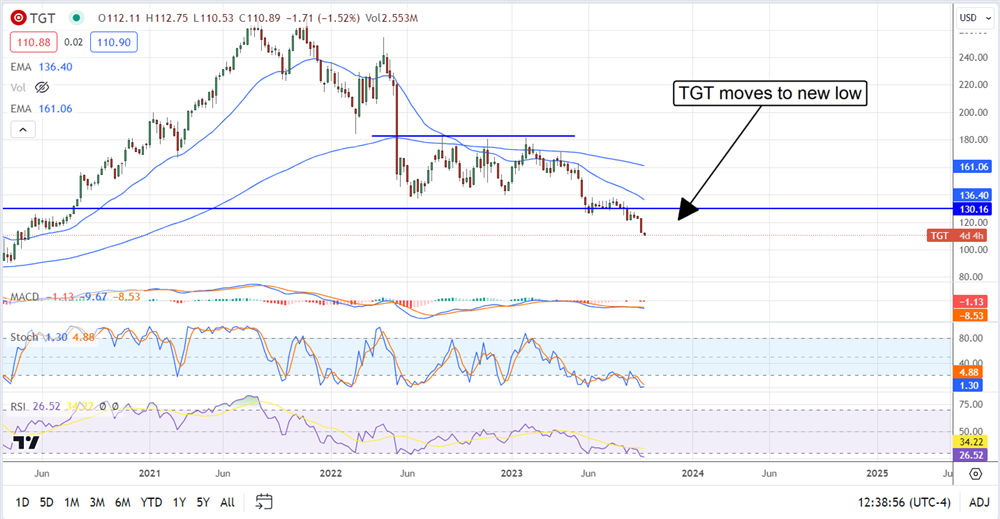 Shrinkage: It's Growing 
Shrinkage is a growing problem and not just in simple theft. Shoplifting is a concern, but internal theft and simple mishandling of information are another problem. Expect to hear more about this, especially from names like Target and Dick's Sporting Goods (NASDAQ: DKS), which have called it out specifically as a burden to profitability. Conversely, several companies are working to help retailers control shrink and may show strength. CDW Corporation (NASDAQ: CDW) is one, although results from its diversified business have been mixed this year.