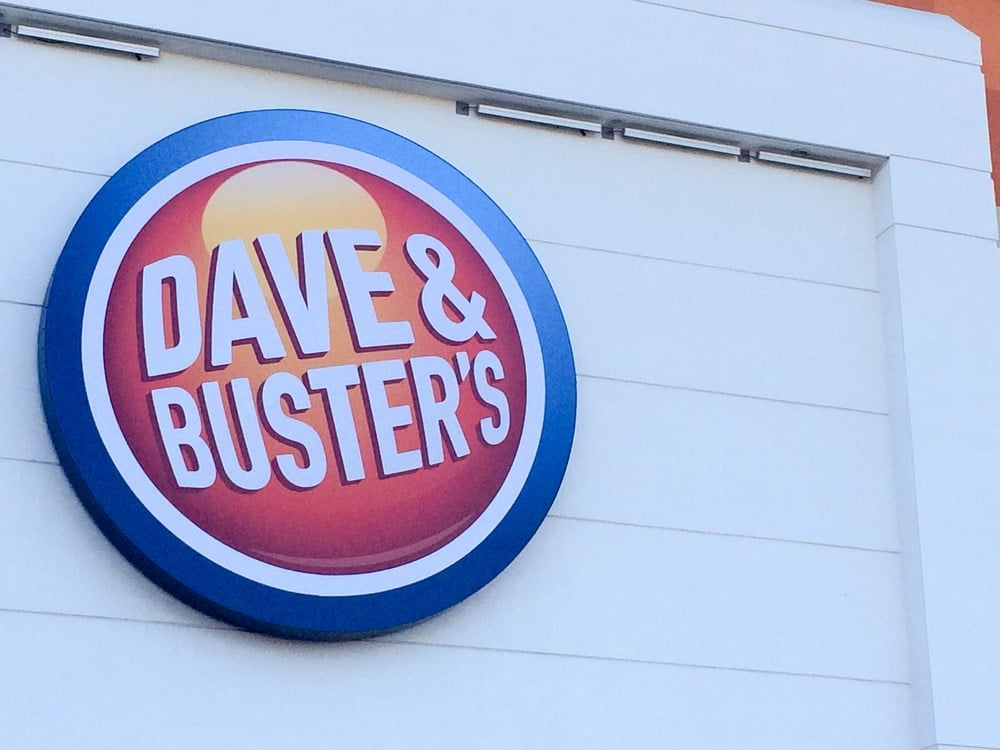 Interactive entertainment restaurant operator Dave & Buster's Entertainment, Inc. (NASDAQ: PLAY) is a unique experience and stock. Dave and Buster's restaurants are an immersive and experiential dining and entertainment experience that can't be replicated at home. Anyone who's been to a location can attest to that.
The casino like arcade atmosphere of the Midway, with its mind-numbing sounds and lights, complete video and carnival games overload the senses. Its integration with the Main Event franchise has made it one of the largest establishments of its kind.
It has a wide moat and high barriers to entry thanks to its loyalty program and constantly changing up its games. The business is an elastic anomaly, having only experienced positive normalization after recovering from the COVID-19 pandemic. The company hit record revenues in Q4 to close out a strong 2022. The company competes with other experiential outlets like movie theaters, including AMC Entertainment Holdings, Inc. (NYSE: AMC), Cinemark Holdings, Inc. (NYSE: CNK) and Imax Corp. (NASDAQ: IMAX) .
Growing Generational Customers
From banks to theme parks to grocery stores and broadband providers, the holy grail of commerce is creating and keeping generational customers and fostering devoted customers that continue to loyally use its products and services and pass that commitment down to their children and family members. Dave & Buster's has created generational customers for over 40 years. Its Gen-X customers of the past now have Gen-Z children they share the experience with. Main Event caters explicitly to families helping bridge generational gaps while generating nearly $25 million of cost synergies.
Driving Record Revenues
On March 28, 2023, Dave & Buster's released its fiscal fourth-quarter 2022 results for the quarter ending January 2023. The company reported an earnings-per-share (EPS) profit of $0.80, excluding non-recurring items, versus $0.70 consensus analyst estimates, a $0.10 beat. Revenues rose 64.3% year-over-year (YoY) to $563.76 million, beating consensus analyst estimates for $531.84 million. Pro forma comparable sales, including Main Event locations, grew 19% YoY and 14.1% compared to the same quarter of 2019 pre-covid. The company ended the year with $672.7 million in liquidity, $181.6 million in cash and $491.1 million of its $500 million credit facility.
Full-Year 2022 Stats
Full-year revenues grew 50.6% YoY to $2 billion and 45% from 2019. Net income rose to $137.1 million, up from $100.3 million in 2021. The company reached its $25 million cost synergy target and identified more opportunities to exceed it. The company opened seven new Dave & Buster's and one Main Event location in 2022.
Dave & Buster's CEO Chris Morris commented, "Driven by robust comparable walk-in sales growth and the tailwind of our special events business continuing its recovery toward pre-pandemic norms, we are pleased to report another strong quarter of financial results to mark our first fiscal year-end as a combined company." The company authorized a $100 million shares stock buyback and raised another $200 million on April 28, 2023. Dave & Buster's analyst ratings and stock price targets are at MarketBeat.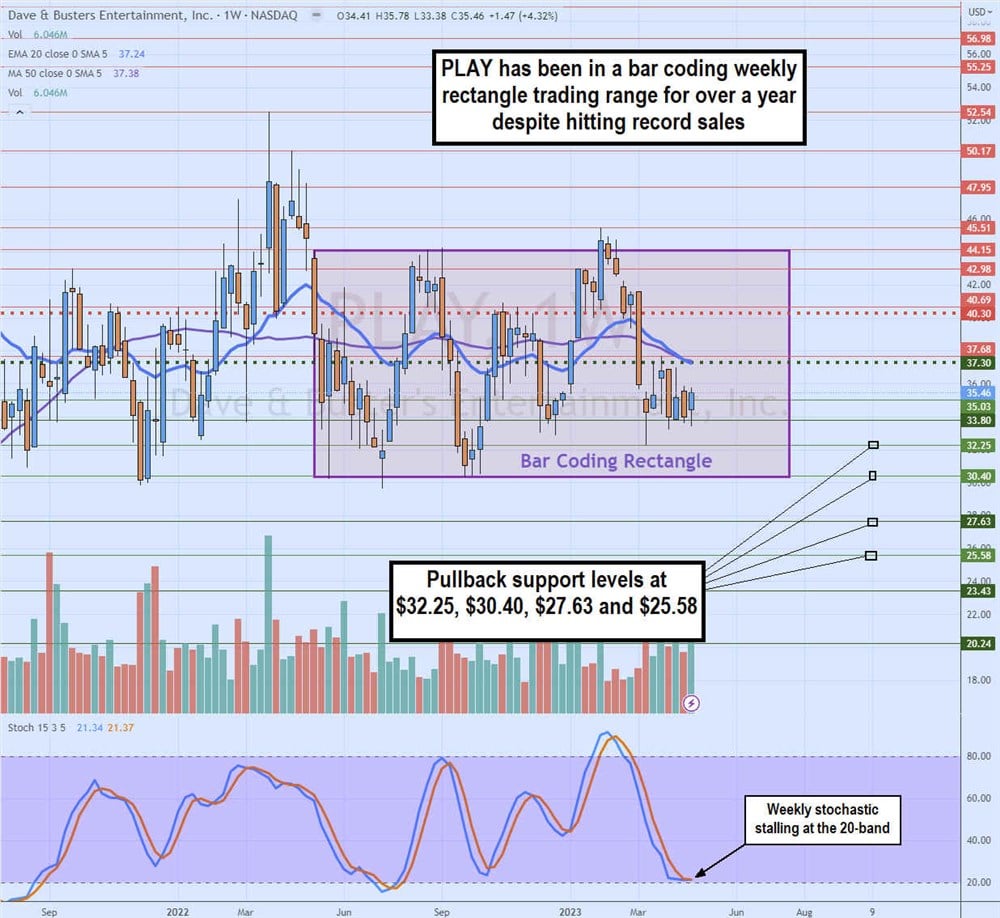 Bar Coding Weekly Rectangle
PLAY has been bar coding, chopping up and down in a flat rectangle range for over a year. The flat top trendline is $44.15, which commenced in May 2022. The flat bottom trendline is at $30.40. Shares formed a weekly market structure low (MSL) on the breakout through $37.30 but also triggered a weekly market structure high (MSH) sell trigger on the breakdown below $40.30.
The daily stochastic has made a complete oscillation down as it stalls right at the 20-band before it crosses back up or forms a mini inverse pup pushing it down through the 20-band.
The weekly 20-period exponential moving average (EMA) resistance overlaps the weekly MSL trigger and weekly 50-period MA at $37.30. Pullback supports are at $32.25, $30.40, $27.63 and $25.58. Shares are trading near the lower part of the trading range.