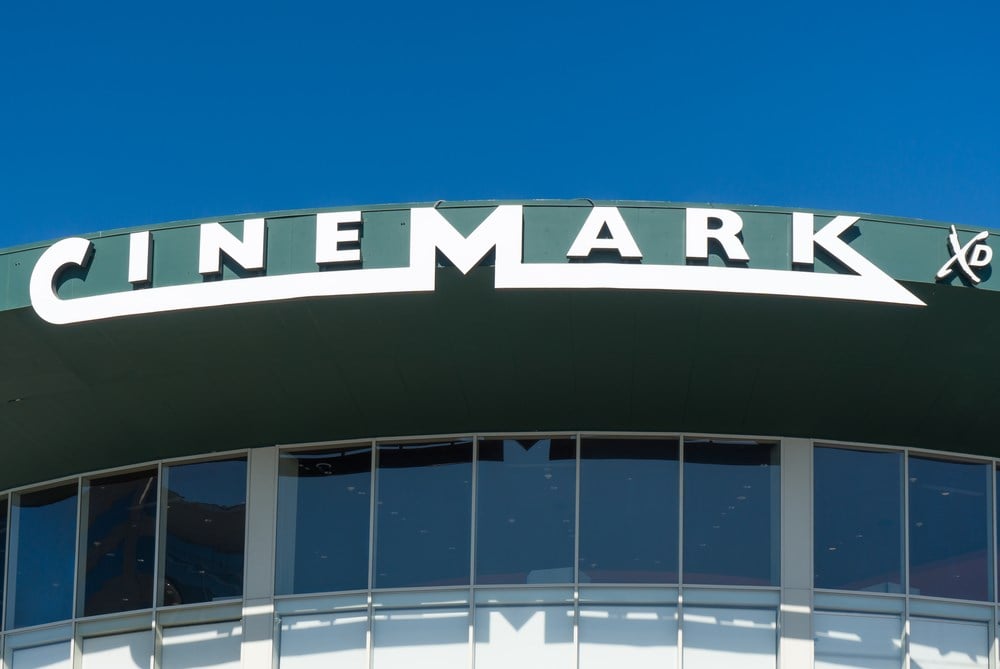 Analysts at Morgan Stanley maintained their Bullish rating on Cinemark Holdings, Inc. (NASDAQ: CNK) this week as the movie chain celebrated its highest single-day attendance record since December 2019. The stock has also consistently beaten the target estimate as the current share price is $16.21, surpassing its original $15.88 price target. While the average consensus for this stock may still be a Hold rating, the strong sentiment should warrant additional consideration. Accordingly, trading volume nearly doubled the daily average following the news.
CNK Has A Lot of Momentum, and the Analysts Agree
CNK's overall momentum appears to support at least some of this fortification. After all, the stock is up almost 20% in the month of March, approximately 60% in the quarter, and nearly 78% YTD. More importantly, perhaps, the current trajectory comes only a few months following the most recent low, around $8.30, in late December 2022. And at that point, Marketbeat considered Cinemark, a "theatre fallout winner."
Other research analysts who maintained Cinemark's overweight rating include Credit Suisse Group and B. Riley. Credit Suisse Group raised their price target from $12.00 to $14.00 as B. Riley lifted theirs from $15 to $20. JP Morgan's analysis appears to be the median, with a bump from $15 to $17. Morgan Stanley also set a competitive price point of $16. Raymond James did not boost their price target but maintained their "overweight" rating, while Roth Capital maintained its "neutral" rating.
An Uphill Climb That Could Reach New Heights
Cinemark has had a difficult ascension, both to its historical high as well as its recent upward position. The stock's previous low was around $7.45 on Nov 3, 2008. Fortunately for them—and investors—the cinema chain eventually recovered and reached its most recent high of $45 on Mach 2, 2015.
The stock slipped but recovered several times before tumbling from $40 in late July 2019 to around $32.60 in mid-February 2020. That would be the stock's last stand for a while as share value plummeted to around $6.50 by March 2020. This is likely a result of the Covid-19 pandemic that had only started to make its way to the US around the beginning of that year.
Indeed, the WHO declared the Coronavirus pandemic a global health emergency by the end of January 2020. The pandemic shutdowns tempered the stock market, and the S&P 500 sank 34% from its Feb 19, 2020 peak. With Americans unable to leave their homes but for essentials, Cinemark was forced to close all 345 US locations.
Emerging from the Covid-19 pandemic, CNK had some trouble gaining new momentum. In early October 2020, CNK dropped to a low of $$8.50, its second-lowest historical value. The holidays and New Year were pretty good for CNK as the stock boosted to $22.50 in May 2021 but has been on another downward trend since. Finally, CNK bottomed out at $8.60 in early December 2022 and has been on a tear ever since.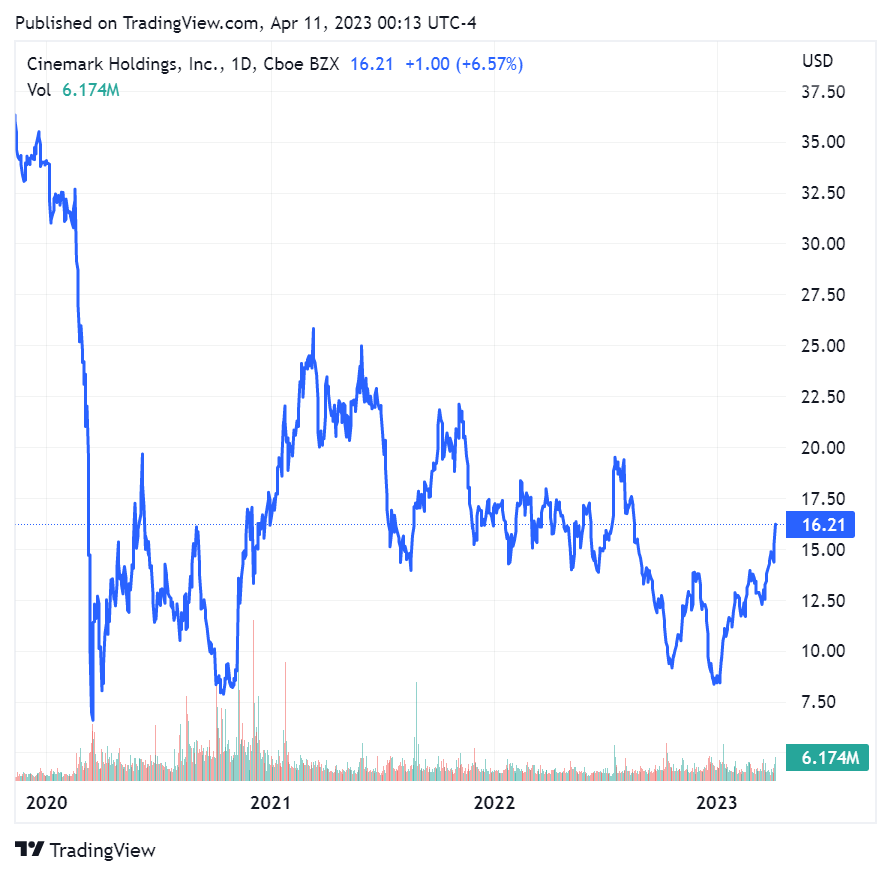 Cinemark Leads its Industry
For all that Cinemark has accomplished in the post-pandemic entertainment industry, AMC Entertainment Holdings, Inc. (NYSE: AMC) is not having such a great time. While AMC is still the largest movie theatre chain in the world (with 11,000+ screens worldwide, roughly double that of Cinemark), its $3.90 price target represents a 38.5% downside from its current $5.24 share price. Furthermore, that price is near the 52-week low and a significant distance from its $38.43 historical high in early June 2021.
On top of that, AMC's Feb 28 earnings call showed an EPS of -$0.14. And even though this beat the consensus estimate by six cents, it remains 11 cents below the -$0.03 posted one year ago. Still, that appears to be in better shape than CNK's earnings. Cinemark posted their earnings on 2/24, with -$0.82 earnings per share definitively failing to meet the -$0.34 consensus. That is a target miss of -$0.48. The disparity is even greater when observing that CNK's reported earnings one year ago were in the green, at $0.05.
CNK and AMC project positive earnings growth, but only CNK will register in the green. While that could be between $0.10 and $0.60 by the end of this year, it still beats the past couple of years. It also beats the earnings estimate of CNK's nearest competitor (AMC's estimated range high is -$0.16). This also means that while neither pays dividends, CNK is closer to improving that.
So, the overall Hold rating makes sense; for now at least. CNK still has some work to upgrade the overall rating, but they are quickly making up the ground. While it may not be the right time for everyone to invest in CNK, that time could soon be approaching.