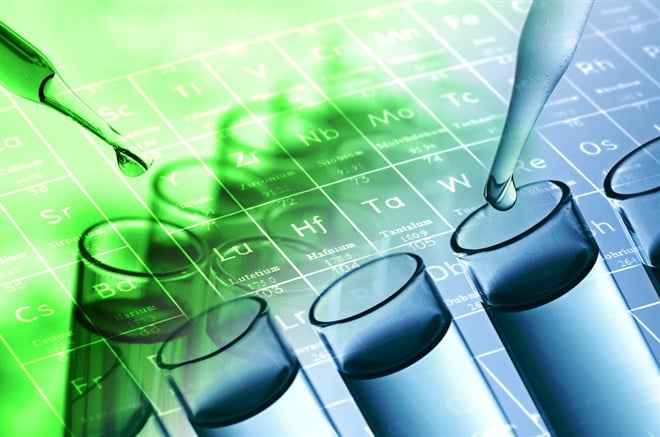 Drug discovery software developer Schrodinger Inc. (NASDAQ: SDGR) stock has been trying to recover after plummeting over 80% off its all-time high of $117 in January 2021. Schrodinger's artificial intelligence (AI) powered software technology platform utilizes physics-based modeling and sophisticated machine learning algorithms to help clients identify the suitable molecules to treat the desired ailments. Its programs can help predict the behavior of molecules and potential outcomes.
This entails finding suitable molecules that effectively target specific cells and proteins, transcend through cell walls, are absorbed and dissolved well without interfering with other drugs or producing bad reactions to other drugs, and are scalable.
Big Name Pharma Customers
Its technology platform allows for the faster and cheaper discovery of novel molecules with a higher success rate than traditional methods. Its clients include the top 20 pharmaceutical companies in the world, including Pfizer Inc. (NYSE: PFE), Merck & Co. Inc. (NYSE: MRK), Takeda, AstraZeneca PLC (NYSE: AZN), and GlaxoSmithKline plc  (NYSE: GSK). It closed new agreements with Eli Lilly & Co. (NYSE: LLY) and Otsuka Pharmaceuticals out of Tokyo, Japan.
The Expensive and Arduous Process of Drug Development
Drug development is a costly, highly regulated, and time-consuming endeavor. The process can take years and many millions to billions of dollars just to get rejected. The average time to develop a drug can take between 10 years to 15 years, which includes discovery, lead compound identification and optimization,  preclinical testing, clinical trials, regulatory review, and final FDA approval.
The drug can fail at any stage, and most fail. FDA approval rate for drugs entering phase 1 clinical trials is 9.6%. The approval rate for drugs completing phase 3 clinical trials is 60%—the average new drug costs around $2.5 billion.
Revenue Streams
Schrodinger collects revenues from licensing its software comprising 18 proprietary programs or collaborating on drug discovery projects. The company has 1,750 global customers licensing its software. It has 15 active collaboration projects for drug and materials design. It has 18 active programs in its proprietary pipeline consisting of wholly-owned and partnered drug development.
Double Digit Top Line Q4 Growth
On Feb. 28, 2023, Schrodinger released its fiscal fourth-quarter 2022 results for December 2022. The company reported a net loss of ($27.2 million). Revenues grew 23% year-over-year (YoY) to $56.8 million, beating analyst estimates of $47.44 million. Software revenue grew 24% to $47.8 million as it closed multi-year agreements.
Software gross margins rose to 83% versus 78% in the year-ago period. Drug discovery revenue was $9 million, up from $7.6 a year ago. Operating expenses rose to $67.2 million versus $48.9 million in the year-ago period.
Double Digit Full-Year 2022 Growth
Full-year 2022 revenues rose 31% to $181 million. Software revenues rose 20% to $135.6 million, and drug discovery revenues nearly doubled to $45.4 million for the full-year 2022. Operating expenses ballooned to $247.8 million compared to $177.1 million in 2021. Schrodinger closed the year with $479 million in cash.
Schrodinger CEO Ramy Farid commented, "Drug discovery revenue for 2022 nearly doubled compared to the prior year, our portfolio advanced and expanded, and we added two new collaborations." Software growth was driven by more extensive and accelerated renewal from its existing clients and collaborators, scaling up the adoption of its technology platform.
Forward Guidance
Schrodinger expects Q1 2023 software revenues between $31 to $35 million and drug discovery revenues between $30 to $34 million. Full-year 2023 software revenues are expected to grow 13% to 17%, and drug discovery revenues are expected between $70 million to $90 million.
Weekly Cup and Handle Breakout Attempt
The weekly candlestick chart on SDGR shows a cup and handle breakout attempt. The cup lip was initiated after shares peaked at $26.53 in October 2022. SDGR proceeded to fall to a low of $15.85 by December 2022. Shares spiked the week after to form a weekly market structure low (MSL) trigger on a $21.59 break. SDGR broke out through the MSL trigger a few weeks later, and the MSL trigger has been supported since then.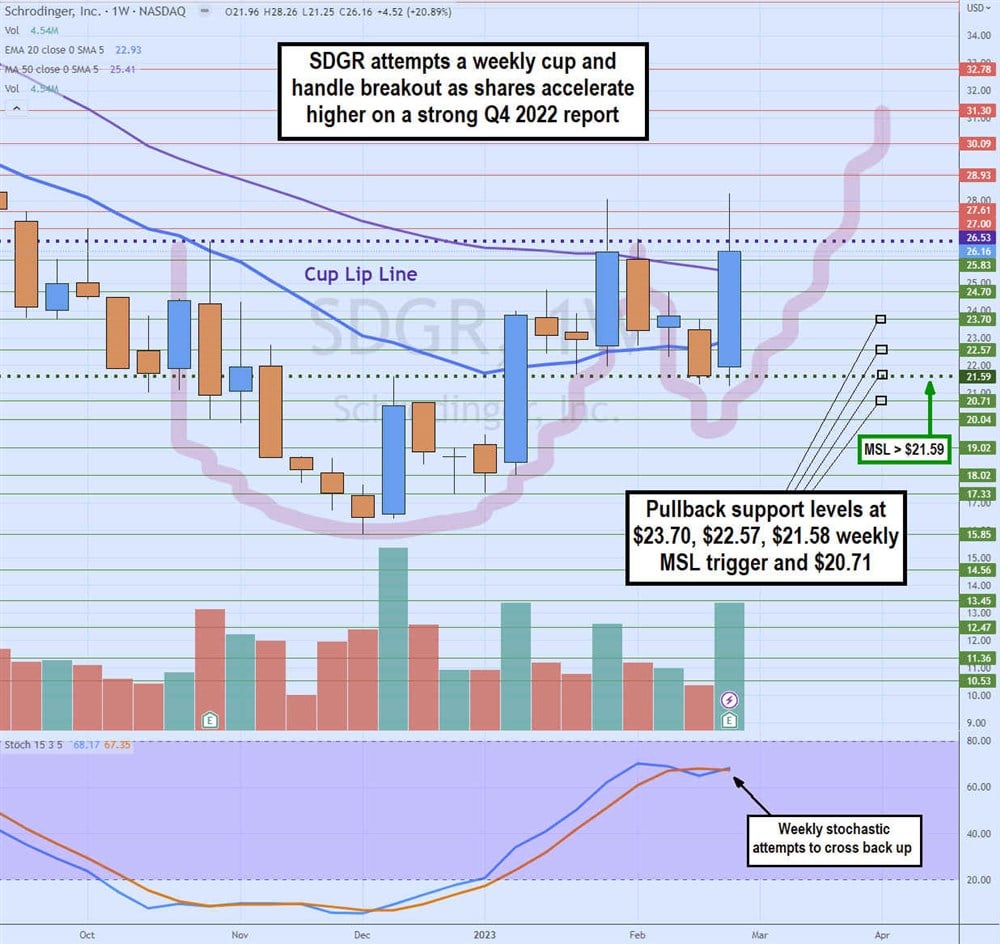 SDGR continued to fall to test the $21.59 weekly MSL trigger and form a handle on the bounce from its Q4 2022 earnings release. Shares attempted to break the cup lip line by the end of January 2022 as shares reached $28.05 but failed to hold above the lip line.
Shares spiked as high as $28.26 but still struggled to stay above the $26.53 cup lip line to confirm the cup and handle breakout. Pullback support levels are $23.70, $22.57, $21.58 weekly MSL trigger, and $20.71.