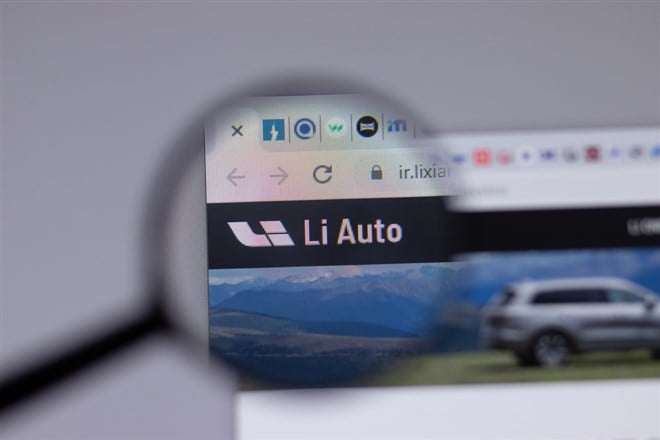 Chinese electric vehicle (EV) manufacturer Li Auto Inc. (NASDAQ: LI) stock has been the most resilient of its peer group. EV makers have been getting crushed heading into the new year, as evidenced by the nearly (-40%) collapse in shares of Tesla Inc. (NASDAQ: TSLA) in December 2022.
Waning demand for EVs and rising oversupply have been a concern as Tesla announced two price cuts on its Model Y and Model 3 EVs amid rumors of a shutdown in its Shanghai factory in China.
Tesla also missed its fourth-quarter delivery numbers despite selling a record number of vehicles in China, representing nearly a third of its total revenues. Following Tesla shares into the gutter were U.S. EV makers Rivian Automotive Inc. (NASDAQ: RIVN) whose delivery number missed expectations, Lucid Group Inc. (NASDAQ: LCID) and Fisker Inc. (NASDAQ: FSR).
EV Winter in China Too
Chinese EVs were crushed so badly that shares have been relatively buoyant amid the recovery in Chinese stocks stemming from the relaxing of its zero-COVID policy and impending reopening.
Among the Chinese EVs, Li Auto has been resilient, trading above the $20 range, while former high-flying peers Xpeng Inc. (NASDAQ: XPEV) and NIO Inc. (NYSE: NIO) continue to hover around the $10 mark. While it's no secret these companies continue to lose money hand over fist, the problem has been the slowing growth trajectories and rising losses causing its shares to stink. Li Auto losses rose 117% from the year-ago Q2 2021 period, while revenues climbed 20.2%.
Growth Slowdown
On Dec. 22, 2022, Li Auto released its fiscal third-quarter 2022 results for the quarter ending Sept. 2022. The Company reported an earnings-per-share (EPS) loss of (-RMB1.27) versus (-RMB0.63) consensus analyst estimates, a (-RMB0.64) miss. Losses from operations were RMB2.13 billion or (-$299.4 million), up 117.6% from year-ago period losses of RMB978.5 million.
Revenues rose 20.2% YoY to RMB9.34 or $1.34 billion but fell short of the analyst estimates for RMB9.58. The Company also announced the resignation of its president and director Yanan Shen to be replaced by chief engineer Donghui Ma effective Jan. 1, 2023.
In-Line Guidance
Li Auto issued in-line guidance for fiscal Q4 2022 revenues between RMB16.51 to RMB17.61 billion versus RMB16.7 consensus analyst estimates. The Company estimates between 45,000 to 48,000 vehicle deliveries, representing a 27.8% to 36.3% YoY growth rate.
CEO Commentary
Li Auto founder and CEO Xiang Li commented, "Our Li L9 deliveries exceeded 10,000 in the first full month of its production despite the uncertain macro environment and supply chain disruptions. Li L9 has been the sales champion among full-size SUVs in China since its deliveries started.
Such a strong performance demonstrated the wide recognition by family users and our team's formidable execution capabilities. Meanwhile, we forged ahead with the launch of Li L8, the successor to Li ONE, and unveiled Li L7, a five-seat flagship family SUV."
Next-Gen Hi Voltage Electric Drive Technology
The Company commenced constructing the Li Auto Power Semiconductor R&D and Manufacturing Base in Suzhou, Jiangsu province. The factory will focus on in-house R&D and production of third-gen semiconductor material silicon carbide (SiC) and the automotive-grade power modules used in. The power mode is core to its in-house developed next-gen high-voltage 800-volt electric drive system.  
December 2022 Vehicle Deliveries
On Jan. 3, 2023, Li Auto reported a record 21,233 vehicle deliveries for December 2022, marking a 50.7% YoY increase. This bumps up Q4 2022 total deliveries to 46,319, up 31.5% YoY. Total 2022 deliveries rose 47.2% YoY to 133,246 vehicles.
Cumulative total vehicle deliveries grew to 257,354. NIO also saw a greater than 50% YoY vehicle delivery rate in December 2022 while Xpeng grew deliveries by 94% YoY. This helped to improve sentiment heading into 2023.
The MarketBeat MarketRank™ Forecast gives a 2 out of 5-star rating on shares of Li Auto. It projects a 76.9% possible upside price target of $37.03 and an analyst buy rating of 3.00.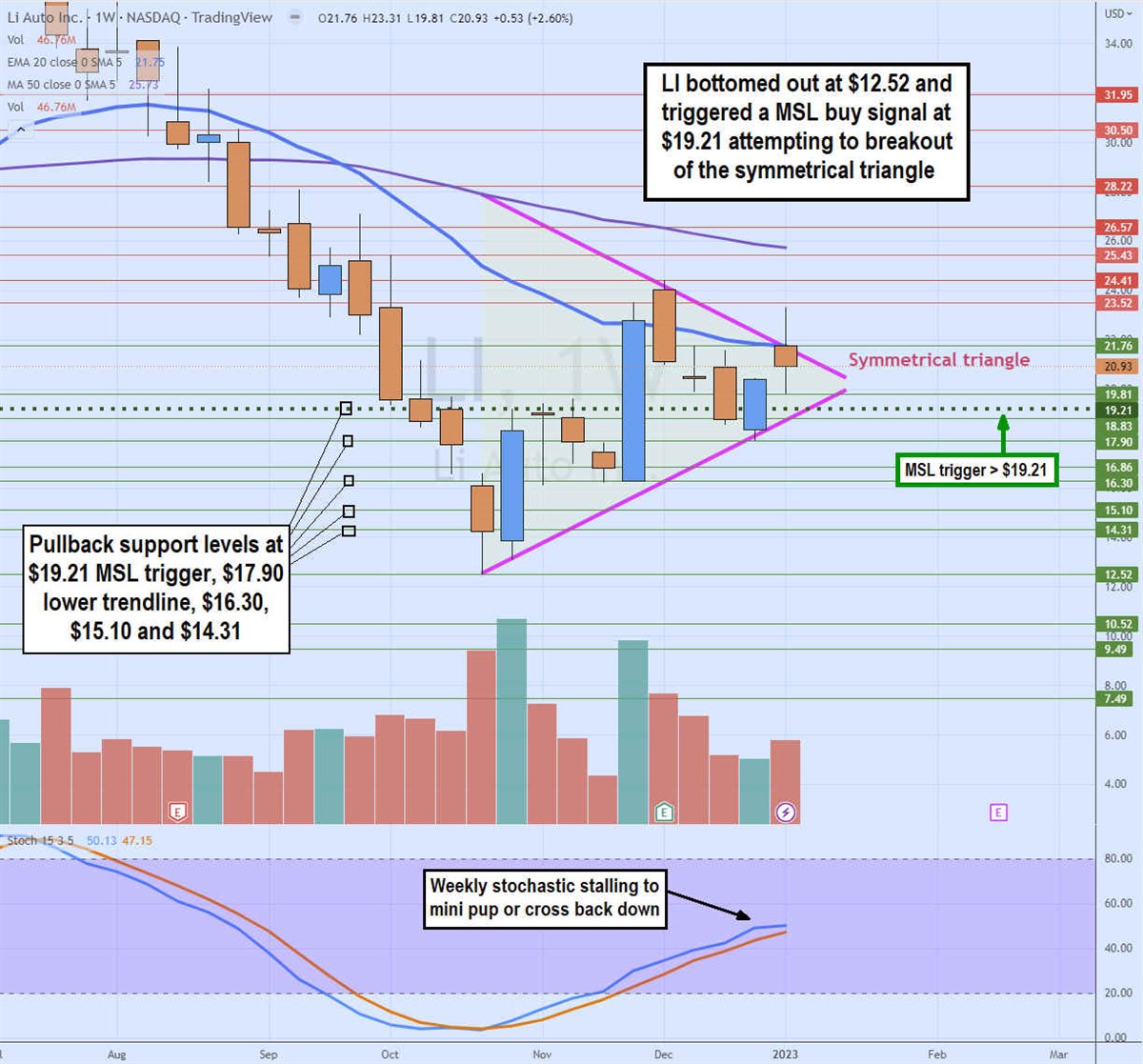 Weekly Symmetrical Triangle Pattern 
LI is attempting to break out of the weekly symmetrical triangle as it tests the 20-period exponential moving average (EMA) resistance that overlaps the triangle's upper trendline at $21.76. The initial attempt to close above there failed, but the weekly stochastic is still rising but stalled.
The symmetrical triangle pattern will eventually resolve in a breakout through the $21.76 trendline or breakdown back under the weekly MSL trigger at $19.21 as the stochastic crosses back down. If it breaks out, the next upside resistance bumper is the weekly 50-period MA at $25.73. Pullback supports in the event of a breakdown sit at the $19.21 weekly MSL trigger, $17.90 lower trendline of the triangle, $16.30, $15.10, and $14.31.