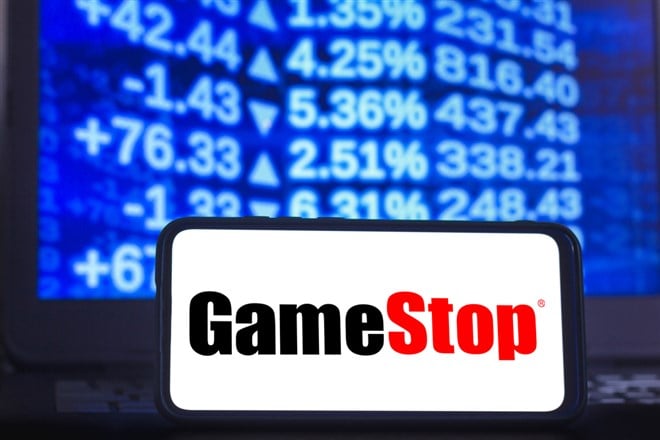 The legendary meme stock GameStop Corp. (NYSE: GME) has had a long run these past two years, but it has slowly but surely started to make its way down a seemingly unending slide since August. Much of the volatility that has characterized its track record in recent years has dissipated, this volatility having come during the lockdowns and the retail trading craze. 
As the first meme stock ever, driven in large part by retail traders on Reddit, GameStop served as a prime example of how identifying a short squeeze in a beaten-down stock can work in your favor if you play your cards right. However, looking at the year ahead, investors have to wonder if its best days are behind it, considering we may be looking at a more normalized valuation now that the meme trend seems to have run its course. To be sure, there are safer companies out there due to a reversal in fortunes. 
Mediocre Earnings
With more scrutiny being applied to a company's numbers, it's understandable that GameStop's most recent report from last month failed to impress. Investors would have been hoping for an upside surprise to justify a Santa Claus rally but were left wondering if they should sell for the tax benefits. The company posted a loss of -$0.31 per share, even lower than the already projected loss of -$0.28 per share. 
This could have still been overlooked if we saw a steady sales revenue; however, GameStop was also disappointed in this aspect. GameStop posted a sales revenue of $1.19 billion for the third quarter against an expected $1.25 billion. On a year-over-year basis, it also showed a contraction of almost 9%. 
Now you would think that the meme stock craze would have set the company to take advantage of the situation and use the short squeeze to chop off a good majority of its debt load. However, there seems to be a pattern where meme stocks like GameStop and even AMC Entertainment Holdings Inc. (NYSE: AMC) have both failed to capitalize on this situation. 
Still, management tried to remain optimistic, saying last month that "long-term debt remains limited to a low-interest, unsecured term loan associated with the French government's response to COVID-19." While they may be striking a bullish tone, it doesn't seem like investors are willing to buy into it as we head into 2023 and shares hit their lowest point since February 2021. 
The Bull Case
Despite hitting quite a few bumps this past year, this stock has some positive aspects that can't be overlooked. The company has been reducing expenses, and the video game industry is on the up. November saw video game sales mark their first industry-wide year-over-year gain in more than a year when they logged a 3% increase as holiday shopping started to bring sharp rebounds in consoles and accessories.
Technically, investors with a risk appetite will be sitting up too. GameStop's shares are trading along long-term support levels at the $17-20 mark. This is where they bounced during similar bouts of weakness in March and May last year, and an RSI of 30 points to them being extremely oversold. 
Looking at the overall picture, it is best to stay cautious around GameStop in 2023. We are looking at most likely a bearish year for the stock, with the caveat that GameStop remains the king of the meme stocks where anything can happen, especially if tech stocks start to recover.
Short interest remains elevated at 20%, so it's not outside the realm of possibility to see another triple if not quadruple, percentage run in the months ahead. In the meantime, though, buyer beware. Investors getting in on the long side would be betting against billionaire investor Carl Icahn who's been holding his short position since early 2021.