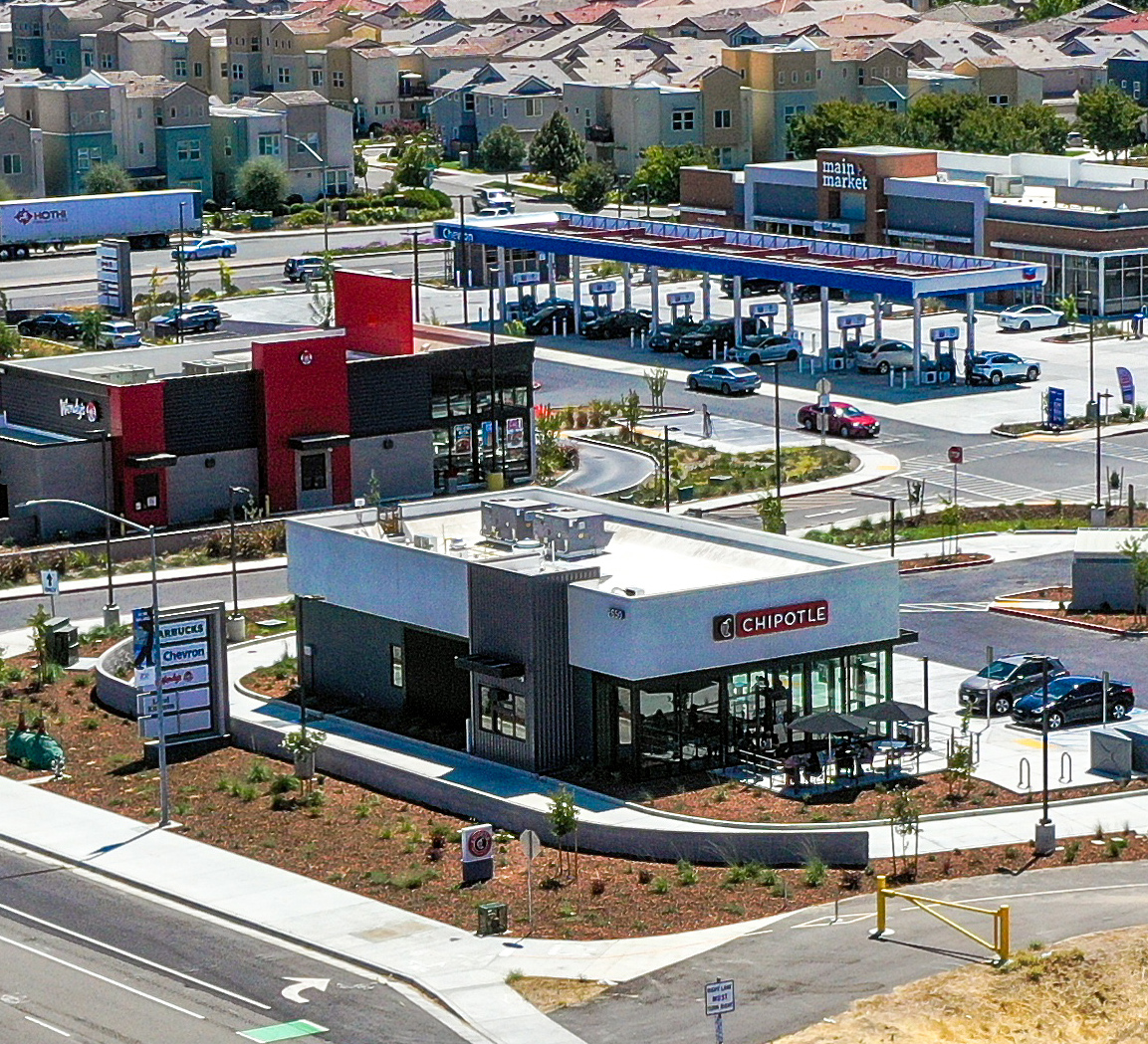 SACRAMENTO, Calif. - Hanley Investment Group Real Estate Advisors, a nationally recognized real estate brokerage and advisory firm specializing in retail property sales, announced today that the firm has completed the sale of a new construction single-tenant Chipotle Mexican Grill property featuring a "Chipotlane" drive-thru for digital orders, which is an entirely new phase of drive-thru stores. This property is situated at The Quad District, a new mixed-use development anchored by Costco at the southeast quadrant of Interstate 5 and Arena Boulevard in Sacramento's North Natomas area. The sale price for the new Chipotle property was $4.95 million, representing the highest price per square foot sale of a single-tenant Chipotle drive-thru in the U.S. in 2023.

The property was developed by Chase Partners Ltd., a leading retail and industrial developer in California since 1993, based in Glendale. Chase is among the most active developers of Chipotle sites and other name-brand retail developments with a dozen projects underway. Michael Carter was the project manager for Chase and Mike Singelyn was the lead consultant on the project. The project was constructed by KDC and designed by Vermeltfoort Architects. Hanley Investment Group's Executive Vice Presidents Bill Asher and Jeff Lefko represented Chase Partners in the sale of this state-of-the-art store. The buyer, a private Los Angeles-based investor, was represented by Jenny Eng from CBRE's Glendale office.

Asher commented, "We generated multiple offers within the initial weeks of marketing, leading us to secure a 1031 exchange buyer based in Southern California. We procured the buyer while the building was under construction and closed escrow the day Chipotle opened for business," said Asher. "The property's new 15-year corporate absolute triple-net lease, strategic freeway-interchange location, and it being an outparcel to a soon-to-be-constructed new Costco, made the Chipotle property particularly appealing to investors."

Asher continues, "Even with rising interest rates, the buyer demand for new construction retail investments like Chipotle is very strong, and we achieved a closing cap rate that demonstrates there is still a very active buyer pool for irreplaceable, top-tier real estate."

Asher noted the closing cap rate was a record low for a single-tenant Chipotle sale in California in 2023, and one of the lowest cap rate sales for a single-tenant Chipotle nationwide this year.

Built in 2023, the 2,347-square-foot Chipotle building occupies 1.13 acres at 2650 Arena Boulevard, adjacent to Interstate 5's new Arena Boulevard off-ramp and the signalized intersection of Arena Boulevard and East Commerce Way. Within a five-mile radius, the property serves a population exceeding 221,000, with a daytime population of nearly 149,000 employees. Within one mile, the average annual household income surpasses $111,000.

The Quad District will feature up to 2.4 million square feet of office space, one million square feet of retail, hotels, a new Kaiser Permanente Hospital, and more than 850,000 square feet of multifamily residential units. A new 160,000-square-foot Costco is slated to open adjacent to Chipotle at the corner of East Commerce Way and Arena Boulevard.

In close proximity, the former Arco/Sleep Train Arena is being transformed into a medical school and teaching hospital for California Northstate University, encompassing a 13-story, 400-bed teaching hospital, along with supporting amenities, including college, dormitories, childcare center, senior residential care facility and supporting office, commercial and retail uses. Hundreds of new housing units will be provided for students, faculty and senior citizens, and 10% of the housing will be designated for affordable housing.

"The brand-new construction, double-drive-thru Chipotlane format is the company's latest prototype designed to efficiently cater to today's quick-service customer needs," said Asher. "Customers can place their order through the Chipotle mobile app or via the website, then pick it up in the Chipotlane drive-thru lane, offering a seamless experience."

Asher noted that Chipotle (NYSE: CMG) reported Q2 2023's total revenue was $2.5 billion, an increase of 13.6% compared to the second quarter of 2022. The increase in total revenue was driven by a 7.4% increase in comparable restaurant sales and new restaurant openings. In-restaurant sales in the second quarter increased 15.8%, compared to the second quarter of 2022, while digital sales represented 38.0% of total food and beverage revenue.

Chipotle opened 47 new restaurants during the second quarter with 40 locations including a Chipotlane. These formats continue to perform well and are helping enhance guest access and convenience, as well as increase new restaurant sales, margins, and returns.

"New Chipotle Mexican Grill restaurants with a Chipotlane drive-thru are one of the more sought-after quick-service restaurant investments nationwide right now," Asher said.

In 2023, Chipotle expects to open 255 to 285 new restaurants (including 10 to 15 relocations to add a Chipotlane), which assumes utility, construction, permit and material supply delays do not worsen, the company reported. As of June 30, 2023, Chipotle had over 3,250 restaurants in the United States, Canada, the United Kingdom, France and Germany and is the only restaurant company of its size that owns and operates all its restaurants in North America and Europe. Chipotle is ranked on the Fortune 500 and is recognized on the 2023 list for Fortune's Most Admired Companies and Time Magazine's Most Influential Companies.

Asher adds, "Although cap rates and pricing have started to adjust in the past months due to rising interest rates, single-tenant fast-food drive-thru properties will remain in high demand, retain the best pricing, and represent a flight to security for net lease investors. The sale of the Chipotle in Sacramento is a prime example of pride of ownership, a trophy acquisition featuring a secure and stable income stream the buyer can rely upon long-term."

Hanley Investment Group has sold 13 Chipotle Mexican Grill properties in the past 14 months at record pricing or record cap rates in multiple metropolitan statistical areas (MSAs).

About Hanley Investment Group 

Hanley Investment Group Real Estate Advisors is a real estate brokerage and advisory services company with a $10.4 billion transaction track record that specializes in the sale of retail properties nationwide. Our expertise, proven track record, and unwavering dedication to putting clients' needs first set us apart in the industry. Hanley Investment Group creates value by delivering exceptional results through the use of property-specific marketing strategies, cutting-edge technology, and local market knowledge. Our nationwide relationships with investors, developers, institutions, franchisees, brokers, and 1031 exchange buyers are unparalleled in the industry, translating into maximum exposure and pricing for each property. With unmatched service, Hanley Investment Group has redefined the experience of selling retail investment properties.
For more information, visit www.hanleyinvestment.com.
Media Contact
Company Name: Hanley Investment Group Real Estate Advisors
Contact Person: Bill Asher, Executive Vice President
Email: Send Email
Phone: 949.585.7684
Address:3500 East Coast Highway, Suite 100
City: Corona del Mar
State: California
Country: United States
Website: https://hanleyinvestmentgroup.com/