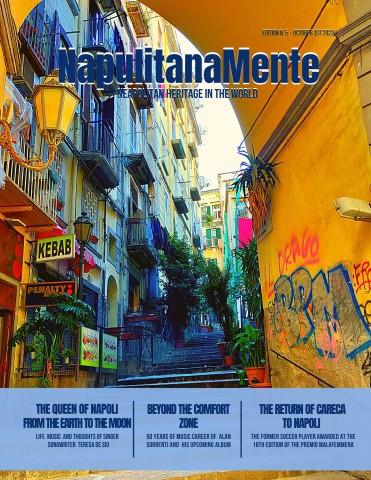 The two years old successful publication is at its fifth edition.
Napulitanamente magazine fifth edition is finally out!
After six months of hard work Napulitanamente magazine has been released and it is available for printing on demand. It is rich of new contents, featuring stories from abroad, from Armenia, Iran, Italy, Mexico, Spain; music, with tribute and interviews to Neapolitan artists who during their career have sold million copies of thei albums And then it also features art,  theater and an exclusive news from Capri, the blue island.  But there is much more! The articles of the first 20 pages will be published and available for free on the website. Within Napulitanamente you can find a large range of articles that cover everything from Mediterranean cuisine to photography, art, theater, poetry, language, cinema, history, but also lifestyle and business. Additionally, it also publishes audio and video interviews, always maintaining a very objective approach.
Printed copies of all Napulitanamente editions are available worldwide and can be delivered right to your door by ordering at https://www.napulitanamente.com/buy-printed-copy/
About Napulitanamente
Napulitanamente is a magazine that covers Neapolitan culture and its extraordinary heritage all over the world. It is an independent publication, written in English, that was established in Los Angeles, California, in July 2020 and since then has accrued 1700 monthly readers and more than 15000 followers on social media. It focuses on spreading the Neapolitan heritage which, for obvious geographic and historical reasons, extends to the entire Mediterranean area, from Naples to Tehran! It also helps people learning more about the local culture, while also eliminating any misconceptions spread throughout the world.
What makes Napulitanamente unique is the fact that the contents on the website are free for everyone. The publication offers a detailed, yet unbiased insight into the country and what it has to offer. Napulitanamente was established by Ingrid Pagliarulo, a Neapolitan that's living in Los Angeles. She wants to ensure that the Neapolitan, and Southern Italy culture in general, are never forgotten, and people can have direct access to it. Which is why here at Napulitanamente we want to ensure that we keep the legacy, history and culture of the Neapolitan region alive, while also making it easy for everyone to learn even more about this beautiful, enthralling location.
Media Contact:
Ingrid Pagliarulo Editor
https://www.napulitanamente.com/
Follow us:
https://www.facebook.com/Napulitanamentemagazine/
https://www.instagram.com/napulitanamentemagazine/
https://twitter.com/napulitanamente
Media Contact
Company Name: Napulitanamente magazine
Contact Person: Ingrid Pagliarulo
Email: Send Email
Country: United States
Website: www.napulitanamente.com/