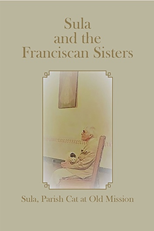 Sula and the Franciscan Sisters by Sula, Parish Cat at Old Mission
"While I was still a kitten…I heard the Mission bells ringing, and my little paws headed me across the way to the Mission. Here I found my forever home and my special mission to help the parishioners. So, I too, became a mendicant, like all the other Franciscans."
"I did not only sit and listen during Morning Mass. I was a participant, and when folks prayed, I was among them – together with the sisters, the parishioners, and all the angels that spent time at our Mission." - excerpts from Sula and the Franciscan Sisters
From the first moment Sula the cat, as a little kitten, ambled over to Old Mission San Juan Bautista, she knew that the Franciscan Sisters of the Atonement were going to be an important part of her life. Sula and the Franciscan Sisters had a couple of things in common: a divine mission and a forever home at Old Mission.
After years of working side by side with the Sisters as full-time members of the parish staff, times changed. The Franciscan sisters retired and moved away, and Sula's visits to the Mission became hostage to COVID-19 closures. She moved in with parishioners, working when the Mission was open—through the last day of her life, having given her all.
In her latest work which was, ironically, released the day she died, Sula not only introduces readers to the Franciscan Sisters of Old Mission San Juan Bautista, but also prepares to say goodbye to them as they move to their mother home in New York. Through beautiful and heartwarming photos, Sula reminisces about their lives at the Mission: all of the important members of the church, the Old Mission gift shop, furry friends, holidays spent together, and finally, the special Mass sending off the Franciscan Sisters to their new home in New York.
This book is the perfect way to celebrate Sula the Parish Cat and the Franciscan Sisters of the Atonement at Old Mission San Juan Bautista.
Sula, Parish Cat at Old Mission is the author of six acclaimed books on a range of Catholic topics, including Christmas at the Mission, Easter at the Mission Dia de Muertos, Saints I Know, Tale of a Mission Cat, and Surviving Cancer, Healing People. She has also had articles written about her in Guideposts, San Francisco Post, and Hollister Freelance. After moving into the Old Mission Gift Shop fifteen years ago, it became Sula's divine mission to provide love and support to the members of the parish who needed it most. She fulfilled that mission beautifully until she crossed the rainbow bridge on August 24, 2022, after six bouts of cancer. Her passing was broadcast on local KSBW television and carried on stations elsewhere.
On sale at www.amazon.com, www.bn.com, and select book retailers
Order direct from MSI Press website: www.msipress.com/shop
Media Contact
Company Name: MSI Press
Contact Person: Betty Lou Leaver, Managing Editor
Email: Send Email
Phone: 831-578-0290 (phone), 831-886-2486 (fax)
Address:1760-F Airline Hwy
Country: United States
Website: http://msipress.com/shop