The Webinar will feature Hope Goldstein, Partner - Bryan Cave Leighton Paisner
(PRUnderground) February 5th, 2021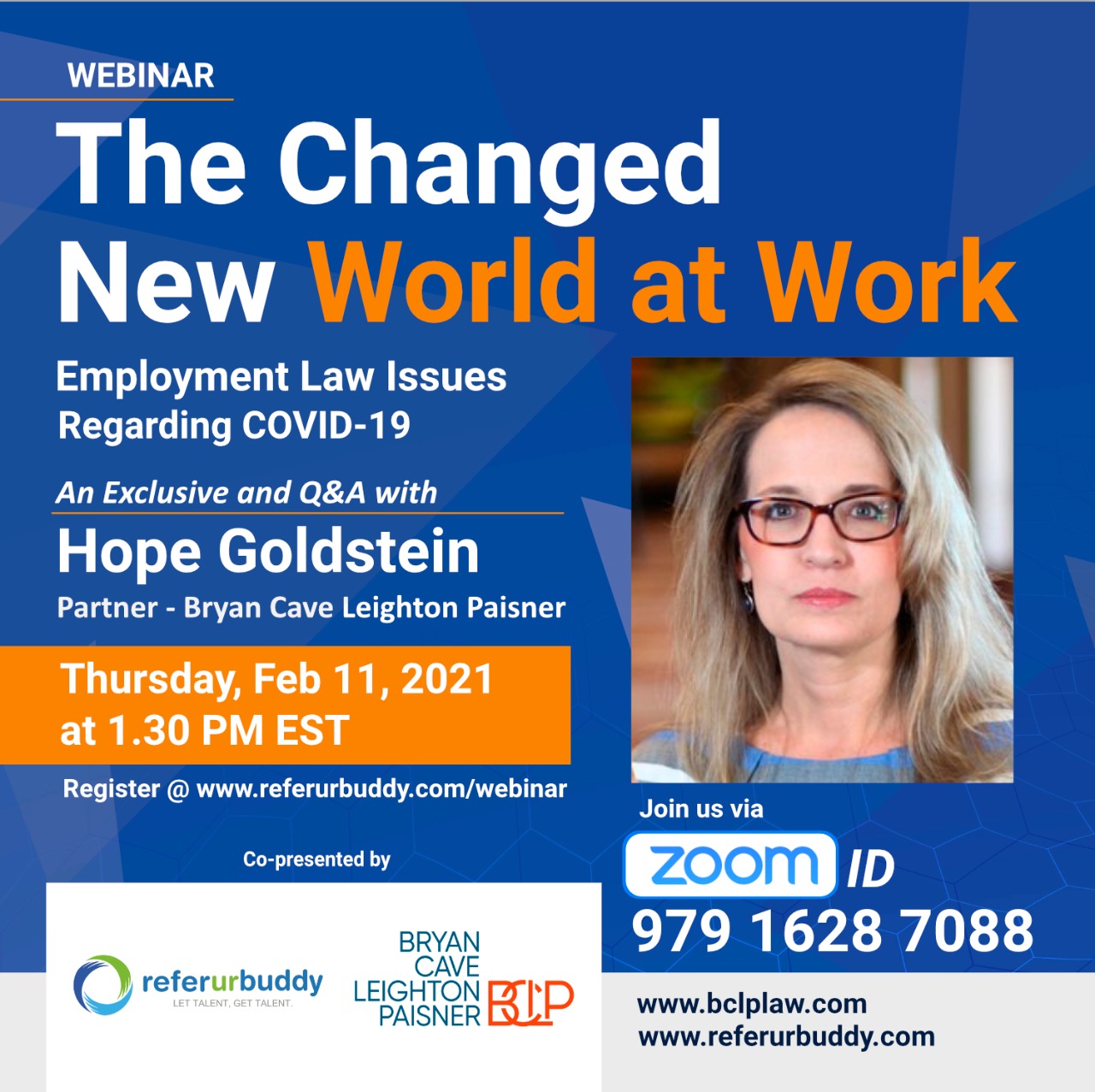 Boutique job referral platform ReferUrBuddy.com (www.referurbuddy.com) and law firm Bryan Cave Leighton Paisner (www.bclplaw.com) are conducting a Webinar on Feb 11, 2021 at 1.30 PM EST to help senior decision makers gain clarity on several key employment law issues surrounding the COVID context.
Whether employees are returning to workplaces, making a partial comeback or continuing to work from home, businesses are faced with a changed reality. As each industry grapples with its unique employment contexts, changing employee expectations and the complexities of interpreting the legal realities behind them, the questions can be daunting.
To address some of these questions, Hope Goldstein, partner, Bryan Cave Leighton Paisner will share insights on specific themes including Returning to the Workplace which will address key considerations such as safety protocols, virus testing, and adjustments to employer policies. The second area of focus will be Employee Refusal and Inability to Return to the Workplace which will cover FFCRA, State and local COVID and sick leave laws, and disability accommodations. And finally, the talk will address Vaccine Related Issues on whether a workplace can or should mandate vaccinations.
The Webinar is designed for CXOs, Senior HR professionals, Hiring Managers, Business and Functional heads. The one-hour program will include a talk by Hope Goldstein followed by interaction and audience Q&A.
Ms. Goldstein has extensive experience representing employers as they address their workplace related concerns. She defends employers of all sizes in both unionized and non-unionized workplaces. Read more about Ms. Goldstein at https://bit.ly/36rwMmX
To read more about this Webinar and register, visit https://referurbuddy.com/webinar
About Bryan Cave Leighton Paisner
Companies – including 40% of the Fortune 500 – rely BCLP to protect their interests and make their business ambitions become business realities. The company helps clients overcome the complexity and challenges caused by competition, disputes, regulation, globalization and market disruption. Whatever opportunity or problem a business faces, they bring to bear the combined experience of 1,400 respected M&A, real estate, financial services, litigation and corporate risk lawyers across 30 offices in North America, Europe, the Middle East and Asia. Distinctively for law firms, Bryan Cave Leighton Paisner is purposefully structured as a single, fully integrated international team, meaning clients can rely on clear, connected legal advice, wherever and whenever it's needed. Read more at www.bclplaw.com
About ReferUrBuddy Inc
ReferUrBuddy.com is a boutique platform for companies willing to step up to the radical social trends impacting business and to change the way talent is acquired. ReferUrBuddy offers companies the opportunity to step outside the box, leverage sources beyond the traditional, and go beyond internal referrals, job boards, or their own sourcing teams. It helps companies leverage the power of larger industry networks to bring in fresh thinking and new talent. The platform is a powerful and disruptive channel for talent to refer talent from their function and industry vertical and create their own revenue stream with every successful hire! Read more at www.referurbuddy.com.
The post ReferUrBuddy.com in association with Bryan Cave Leighton Paisner to conduct Webinar on Employment Law Issues Regarding COVID-19 first appeared on PRUnderground.
Press Contact
Name: Pradeep Anthony

Phone: 848-230-9648

Email: Contact Us

Website: https://www.referurbuddy.com
Original Press Release.