What's Scaring Off High Yield ETF Investors?
September 25, 2020 at 11:36 AM EDT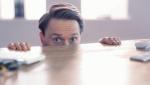 Halloween is just over a month away, but fixed income investors are already getting spooked by high yield ETFs. With Covid-19 and a forthcoming presidential election feeding into uncertainty, will a high yield scare continue through the rest of 2020? "The exodus from high-yield debt shows few signs...