Could Days of Large Spikes in Oil Prices be Gone?
September 25, 2019 at 11:18 AM EDT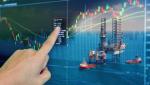 Volatile price moves in oil that could cause stomach-churning, rollercoaster-like oscillations could be behind us, according to oil expert Rusty Braziel. Braziel's comments come after drone attacks in Saudi Arabia last week saw oil prices soar on supply disruption fears. The attacks were enough to...