Snap Inc. (NYSE: SNAP), a company that believes reinventing the camera represents the greatest opportunity to improve the way people live and communicate, was featured in a recent analysis report. The piece discusses performance of SNAP shares, indicating that they have continued to shed value and are currently trading almost 80% lower than they were a year ago. This downward trend is attributed to weakened forecasts for advertising, the changes in Apple privacy and decreased efficacy of digital ad targeting, as well as "major players like TikTok… stealing eyeballs on devices." The report reads, "So — is all hope lost for Snapchat? Not yet. LikeFolio data does show near-term traction in Snapchat usage and download mentions, rising +16% higher on a YoY basis and bucking a multi-year downtrend. Data also suggests users are engaging with Snapchat's TikTok clone section, Spotlight, more than they were last quarter. Spotlight mentions have risen by 33% in the past month. This Spotlight adoption (and competition with TikTok) is critical for Snapchat's long-term revenue model. The majority of its revenue is generated from video ads. And who wants to see a video ad in the middle of direct messaging a friend? By placing ads in between user-generated 'entertainment' content, the interruption feels less obtrusive and more natural."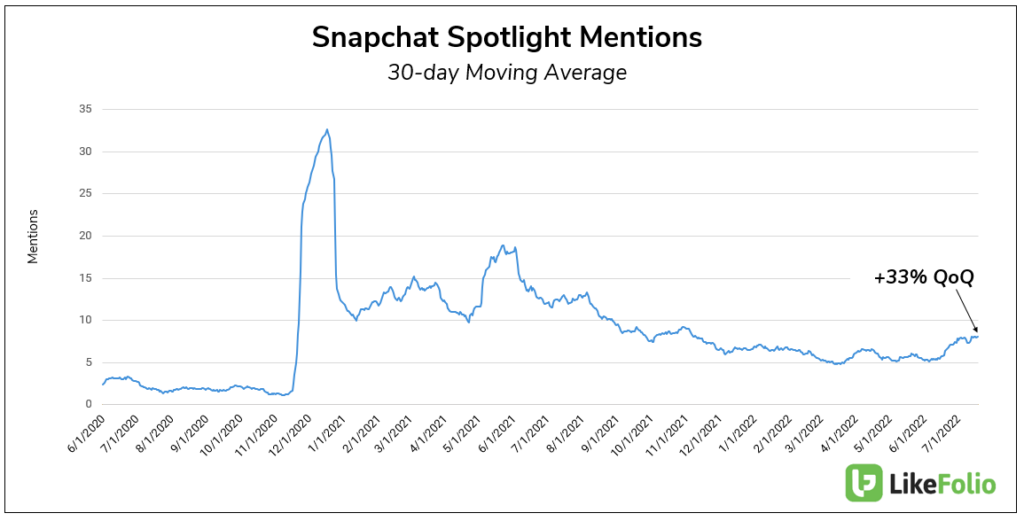 About Snap Inc.
Snap is a camera company. It believes that reinventing the camera represents the greatest opportunity to improve the way people live and communicate. Snap contributes to human progress by empowering people to express themselves, live in the moment, learn about the world, and have fun together. For more information, visit www.Snap.com.
About InvestorWire
InvestorWire is the wire service that gives you more. From regional releases to global announcements presented in multiple languages, we offer the wire-grade dissemination products you'll need to ensure that your next press release grabs the attention of your target audience and doesn't let go. While our competitors look to nickel and dime you with hidden fees and restrictive word limits, InvestorWire keeps things transparent.
As part of its service, InvestorWire provides coverage of noteworthy announcements. To further expand visibility of achievements being made throughout a multitude of sectors, InvestorWire's syndication partners have extended the digital coverage to include individual broadcasts on financial websites and platforms visited by millions of investors daily.
For more information, please visit https://www.InvestorWire.com
Please see full terms of use and disclaimers on the InvestorBrandNetwork website applicable to all content provided by IBN, wherever published or re-published: http://ibn.fm/Disclaimer
InvestorWire (IW)
8033 Sunset Blvd Suite 1037-IW
Los Angeles, CA 90046
310.299.1717 Office
www.InvestorWire.com
Editor@InvestorWire.com
InvestorWire is part of the InvestorBrandNetwork.