--News Direct--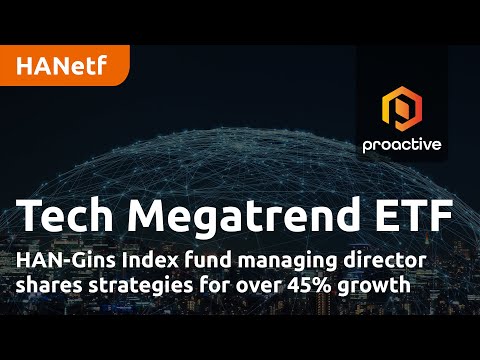 Anthony Ginsberg, managing director of the HAN-GINS Megatrend ETF, joined Steve Darling from Proactive to discuss the success of their tech Megatrend ETF.
The fund, with a 45% surge this year and 20% year-over-year growth, capitalizes on the Fourth Industrial Revolution. Distinguished by its diversified approach, the ETF encompasses AI, robotics, cybersecurity, cloud, and electric vehicles, standing apart from standard tech funds.
Unlike NASDAQ, the ETF maintains a global benchmark, with the US accounting for only 58-59%, promoting broader diversification. Ginsberg emphasized the equal-weighted structure of the fund, rotating profits every six months across its eight subthemes. This approach differentiates the Megatrend ETF from NASDAQ's heavily weighted allocation to large-cap stocks like the FAANGs. Ginsberg noted the emphasis on Asia, with over 20% exposure, compared to 10% in the US.
Tech's transformative role was highlighted, driven by AI's projected quadrupling in expenditure to $2.5 trillion, influencing cloud and cybersecurity domains. Ginsberg also acknowledged the impact of remote work and key acquisitions, such as Microsoft's $75 billion Activision deal.
Overall, this strategy leverages the tech megatrend's global scope and diversified portfolio to achieve notable returns.
Contact Details
Proactive Investors
+1 604-688-8158
na-editorial@proactiveinvestors.com
View source version on newsdirect.com: https://newsdirect.com/news/tech-megatrend-success-han-gins-index-fund-managing-director-shares-strategies-for-over-45-growth-323263998