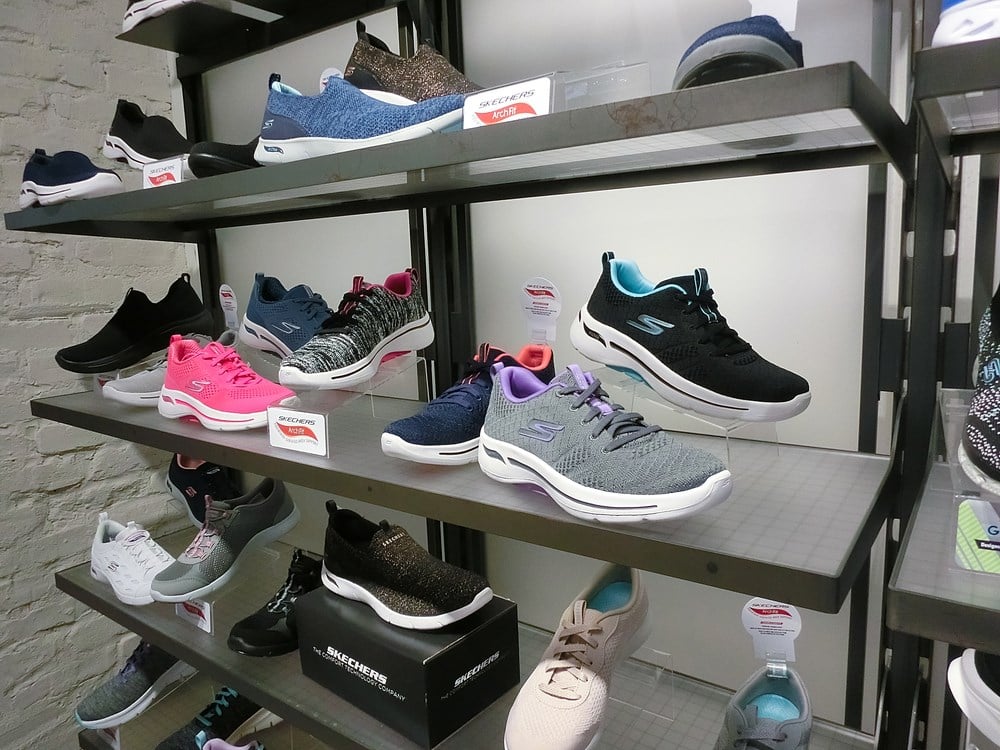 Shares of Skechers U.S.A. Inc. (NYSE: SKX) were off to the races on July 28 on the heels of a better-than-expected first quarter. 
The company designs and manufactures footwear, including sneakers, sandals, and casual shoes, as well as casual clothing and accessories. It's known for shoes that are comfortable while also being stylish. Innovation is also a key tenet of Skechers' value proposition. 
The stock gapped higher and rallied to fresh heights. As you'd expect with a gap-up, trading volume was heavier than normal. 
With the post-earnings price move, the stock was in the buy range, having cleared a flat base buy point above $54.77. When stock gaps higher, investors should avoid chasing it too far and instead try to nab it within 5% of its price within five minutes of the gap up.
In the case of Skechers, that price would be $54.68, where it was trading five minutes after the open on July 28. 
Running Past Analysts' Views
In the second quarter, net income rose by 41% to 98 cents a share. Revenue came in at $2.012 billion, up 8%. MarketBeat's Skechers earnings data show the company trouncing top and bottom line views. In each of the past three quarters, Skechers easily ran past Wall Street forecasts.
Revenue in the second quarter marked the company's highest ever.
Even with the solid headline numbers, there were some mixed results.  
Despite a 4.6% sales decrease domestically, international sales picked up the slack, growing by 17.9%. 
Direct-to-consumer sales increased by 29.1%, while wholesale decreased by  5.9%.
But the company anticipates more growth ahead: For the current quarter, it guided towards earnings in a range between 70 and 75 cents a share on revenue of $1.95 billion to $2 billion. 
That lines up with Wall Street's revenue views but falls significantly below the consensus net income view of 92 cents a share.
What's Driving The Uptrend?
So why are investors racing to snap up shares? 
Their enthusiasm has more to do with the company's full-year forecast.  
For 2023, Skechers expects earnings between $3.25 to $3.40 a share, with revenue ranging from $7.95 billion to $8.1 billion. 
Analysts boosted their earnings target to $3.30 a share, below the midpoint of that range. That would be a gain of 34% over 2022. Next year, Wall Street has pegged earnings growth at 18%, to $3.95 a share. 
There was more for investors to like about the second-quarter report. 
The company's gross margin is 52.7%, driven primarily by a higher proportion of direct-to-consumer sales. 
In the earnings release, chief operating officer David Weinberg said, "We were able to deliver our product more effectively and improve our inventory levels, which enabled the robust sales."
$10 Billion By 2026
He added that Skechers is maintaining its goal of $10 billion in annual sales by 2026, and that the company remains focused on improving distribution efficiencies, developing new categories, enhancing its direct-to-consumer segment, and further expanding international business.
One move in that direction was the recent acquisition of the company's third-party Scandinavian distributor, Sports Connection Holding. The purchase included 58 existing Skechers retail locations. 
Skechers is among the best price performers in the footwear industry. The top stocks are from the athletic and casual shoe industries, including On Holding AG (NYSE: ONON) and Deckers Outdoor Corp. (NYSE: DECK). 
Analysts See More Upside
MarketBeat's Skechers analyst ratings show a consensus view of "moderate-buy" with a price target of $58.83. That's an upside of 4.91%, which seems reasonable following the July 28 gap-up. 
But investors should keep in mind: When a stock gaps higher on news, including an earnings report, that's frequently a sign that more buying could lie ahead, as big institutions are beginning to amass what could be a larger stake. 
Immediately after the second-quarter results, eight analysts boosted their price targets on Skechers.