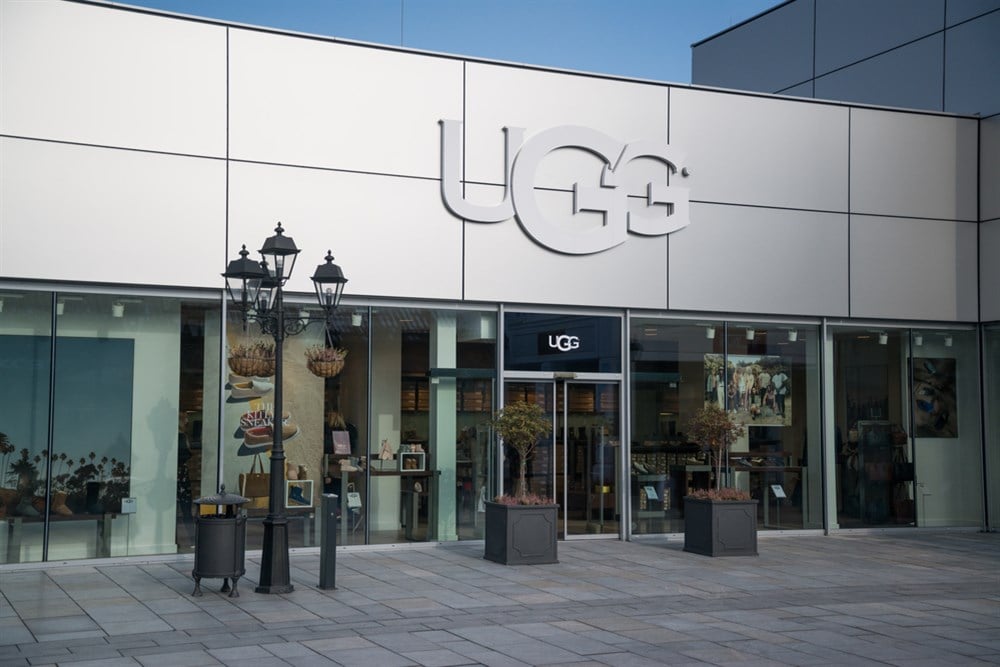 For years, Deckers Outdoor Corp. (NYSE: DECK) was associated with UGG Boots, a cozy, sheepskin-lined footwear originally Australian surfers. The boots have been popular with customers and social media influencers over the years, although they've been the recipient of plenty of snark from people who dub the footwear "ugly,"a play on its name.
However, the fortunes of the company are now propelled by Hoka athletic shoes, known for their maximal cushioning, comfort and support. The shoes are marketed as being ideal for running and hiking.
Hoka sales have helped send Deckers shares up 19.77% in the past three months. Decker stock is currently in buy range, as it's less than 1% above a buy point of $503.48. 
Despite widely known challenges regarding inflation and economic worries, companies selling athletic shoes and gear are among the market's top performers. 
Athletic Shoe Industry Steps into Leadership
Shoemakers On Holding AG (NYSE: ONON), Skechers USA Inc. (NYSE: SKX) and Crocs Inc. (NASDAQ: CROX) have notched gains recently. Meanwhile, athletic gear maker Lululemon Athletica Inc. (NASDAQ: LULU) has also shown strong technicals, as well as sales and earnings growth. 
Deckers Outdoors' sales and earnings have been moving in opposite directions; revenue has been growing but decelerating. Meanwhile, earnings growth accelerated in the past two quarters. 
MarketBeat's Deckers Outdoors earnings data show the company beating analysts' earnings and revenue forecasts in every quarter since February 2022. 
After the company reported earnings on May 25, investors were initially undecided about how to value the stock, as it gapped lower at the open. Other investors immediately spotted an opportunity and shares higher. The stock finished the May 26 session with a gain of 3.37%, at $465.18 and is up 9% since then. 
Analysts Boosting Price Targets
On May 26, five analysts boosted their price targets, as you can see using Deckers Outdoors analyst ratings. On June 13, Raymond James initiated coverage with a rating of "outperform." The consensus rating is "moderate buy." 
While Deckers stock has already exceeded the consensus price target of $502.50, Raymond James gave the stock a big vote of confidence when it initiated coverage, giving it a price target of $565.
One culprit behind the stock's initial selloff may have been investor concerns about declining sales of the stalwart brand Ugg. 
In the fourth quarter, Ugg brand net sales decreased by 16.1% to $314.3 million compared to $374.6 million in the year-earlier quarter. 
Hoka Sales Racing Ahead
Hoka brand net sales increased a whopping 40.3% to $397.7 million compared to $283.5 million in the prior year's fourth quarter. For the full year, Hoka sales were up 58.5%.
Once the reality of the dramatic gain in Hoka sales set in, shares were off to the races. In the earnings conference call, CEO David Powers reassured investors that UGG was performing in line with expectations, as the company focused on growing the brand internationally and through direct-to-consumer channels. He noted that the brand continues to be popular with the crucial 18-to-34-year-old demographic.
Ugg and Hoka together total 89% of Deckers' sales.
Lower-than-Expected Guidance
Fiscal 2024 guidance came in less than analysts expected. The company expects earnings per share between $21.10 and $21.60, versus estimates of $21.77. The company issued revenue guidance of $3.95 billion, below the consensus estimate of $3.97 billion.
But analysts and investors seem to be satisfied that the company is indeed on track for sustainable growth, driven by Hoka's breathtakingly swift run and by sustained sales of UGG in international and direct-to-consumer channels. 
The stock has been moving higher in recent sessions, finding solid support along its 10-day moving average. An increasing number of funds have been purchasing shares, another indication that professional investors are watching the fast growth of Hoka and eyeing the potential, rather than fretting too much about guidance that fell below their views.