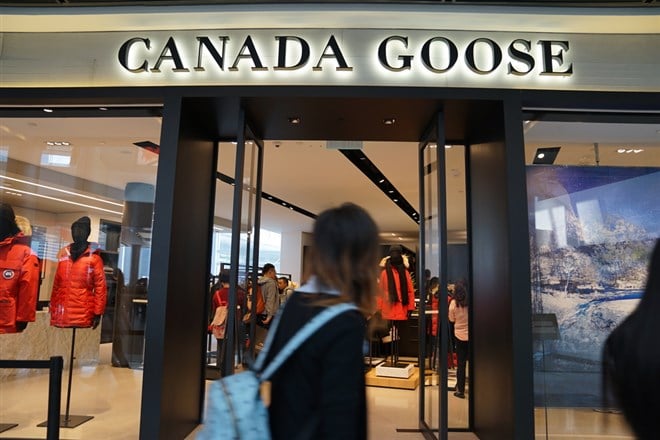 Luxury outerwear apparel maker Canada Goose Holdings Inc. (NASDAQ: GOOS) stock sank (-52.5%) in 2022. The turnaround in China's zero-COVID policy is a surprise as it is set on reopening its economy. The slowdown in China prompted earlier cuts to sales forecasts and guidance for its next quarter and full-year fiscal 2023.
The events in China could result in a surprise beat to its already lowered forecast. Higher inflation and a drop in consumer discretionary spending have impacted mid to low-end retailers, as evidenced by the collapse of Kohl's Co. (NYSE: KSS) and The Gap Inc. (NYSE: GPS) stock. Canada Goose stock trades as if it were a mid to low-end retailer and had a  short interest of 17%. The bears argue it's losing steam as a premium brand,as evidenced by its climbing inventory.
Premium has Pricing Power
Premium brands like Lululemon Athletica inc. (NASDAQ: LULU), Tapestry Inc. (NYSE: TPR), Capri Holding Limited (NYSE: CPRI), and PVH Corp. (NYSE: PVH) are holding up better as its customers can absorb the higher costs. Ultra-premium and high-end luxury brand LVMH Moët Hennessy - Louis Vuitton, Société Européenne (OTCMKTS: LVMUY) shares are still up double its pandemic lows thanks to its affluent consumer base.
With parka jackets selling for $1,500, boots selling for $750, and hoodies at $350, Canada Goose is a premium brand for outerwear apparel more expensive than competitors like Columbia Sportswear Company (NASDAQ: COLM), Deckers Outdoors Co. (NASDAQ: DECK) which closed with a +8.5% gain in 2022. Canada Goose has been underperforming against all aforementioned stocks, making it either a bargain or set on a course toward implosion.
Impressive Top and Bottom Line
On November 2, 2022, Canada Goose released its second-quarter fiscal 2023 results in Canadian dollars for September 2023. The Company reported non-GAAP earnings-per-share (EPS) of C$0.22, excluding non-recurring items, versus consensus analyst estimates for a profit of C$0.05, a $0.17 per share beat. Revenues rose 19% year-over-year (YoY) to C$277.2 million, beating consensus analyst estimates for C$263.3 million driven by the strong performance in North America and Wholesale growth in EMEA.
Gross margin rose 180 bps to 59.8%. Canada Goose CEO Dani Reiss commented, "Given the extent of Covid disruptions in Mainland China and an uncertain global macroeconomic backdrop, we have revised our fiscal 2023 outlook. We will continue to leverage our competitive strengths and remain focused on the things we can control, including disciplined investment spend."
Lowering the Bar
While the fiscal Q3 2023 earnings were impressive, the Company provided downside guidance for the next quarter and the full fiscal year 2023. The Company sees fiscal Q3 2023 EPS between C$1.47 to $1.72 versus $1.87 consensus analyst estimates on revenues of C$580 to C$660 million versus C$693 million estimates.
Canada Goose lowered EPS guidance for fiscal full-year 2023 to come in between C$1.31 to C$1.62 versus C$1.63 consensus analyst estimates. It expects fiscal full-year 2023 revenues to come in around C$6.75 billion compared to the $6.59 billion consensus analyst estimates.
China Re-Opening
The lowered guidance comes a month ahead of China's announcement of easing its COVID restrictions on Dec. 7, 2022, after three years of lockdowns. The question is whether there will be enough time to see material improvements in Canada Goose's China business to hop over the lowered bar.
The Company had attributed most of its shortfall moving forward to China, so this weakness could be a strength that fuels an earnings beat. China is focusing on dealing with the estimated millions of new infections, and they risk reinstate COVID restrictions if the proceeding death toll rises.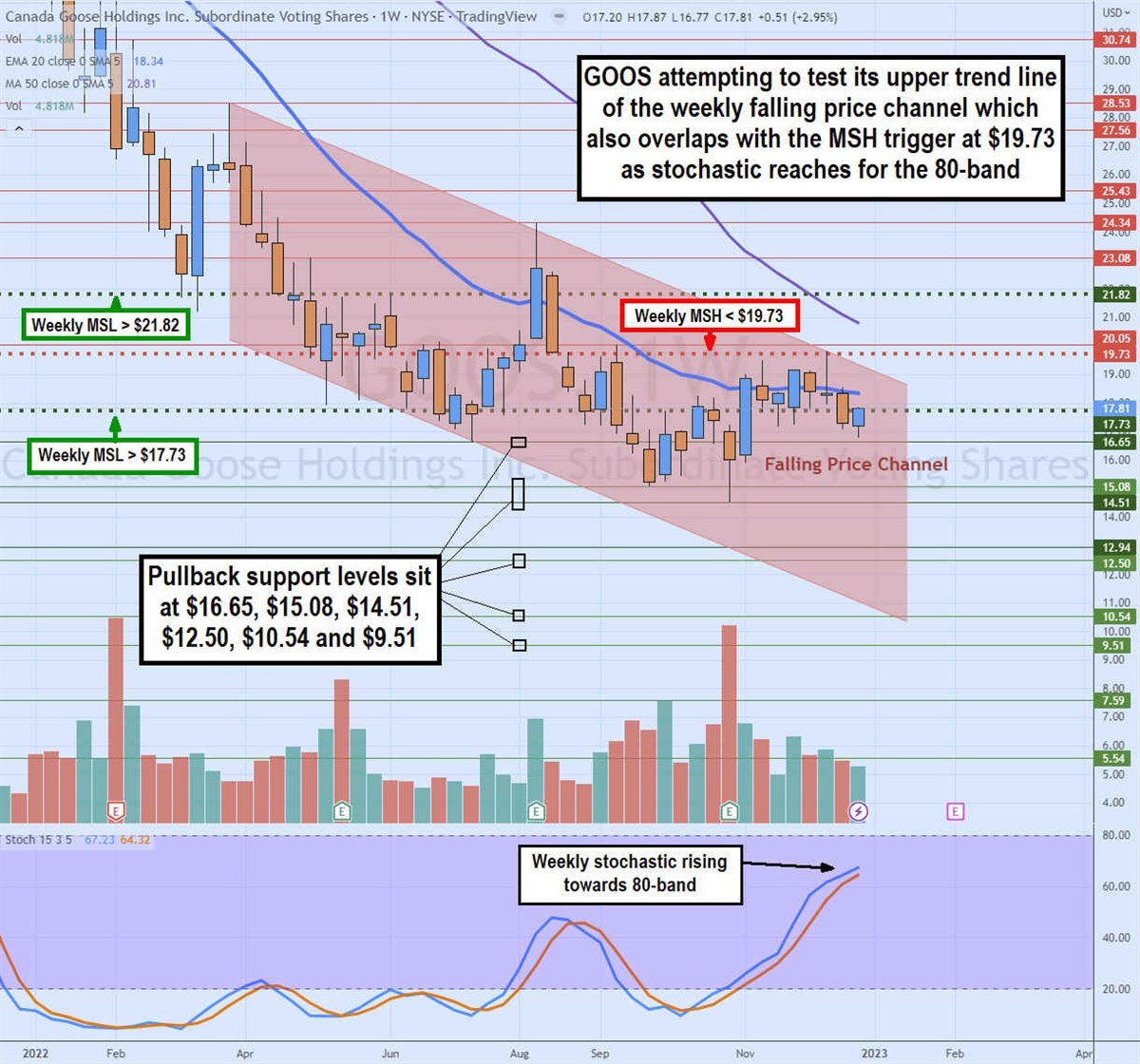 Weekly Downtrend Trend Line Overlaps with MSH Trigger
The weekly candlestick chart illustrates the weekly falling price channel that peaked at $28.52 in March 2022 and proceeded to make lower lows on the drops and lower highs on the bounces.
This downtrend is further illustrated by the falling weekly 20-period exponential moving average (MA) that continues to reject every bounce attempt through it now at $18.34, followed by the weekly 50-period MA downtrend at $20.81.
There are two weekly market structure low (MSL) buy triggers above $17.73 and above $21.82. However, a high market structure (MSH) sell trigger also overlaps with the weekly falling upper trendline at $19.73.
The weekly stochastic has been climbing since pulling in a swing low at $14.51 on Oct. 31, 2022, as it heads for the 80-band. Pullback supports sit at $16.65, $15.08, $14.51 swing low, $12.50, $10.54, and $9.51.