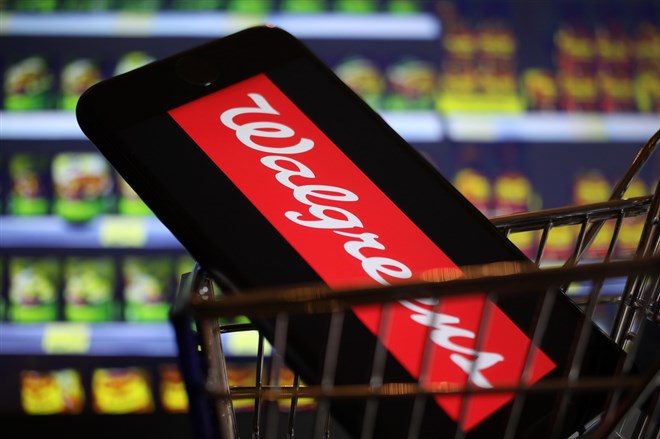 Integrated healthcare and pharmacy retailer Walgreens Boots Alliance Inc. (NYSE: WBA) stock recovered some sell-off losses from its fiscal Q1 2023 earnings release. The nation's second-largest pharmacy chain may finally put its opioid litigation behind them. The Company and competitors CVS Health Co. (NYSE: CVS) and Walmart Inc. (NYSE: WMT) agreed to a combined $13.5 billion settlement for their roles in the opioid epidemic.
CVS agreed to pay $5 billion over 10 years, and Walgreens agreed to pay $5.7 billion over 15 years. Walmart agreed to a $3.1 billion settlement upfront. This is part of over 3,300 lawsuits and $33 billion nationwide opioid litigation against drug makers and distributors in exacerbating the opioid crisis. Rite Aid Co. (NYSE: RAD) had a $10.5 million settlement to exit three opioid cases. The Company can focus on accelerating its transformation into an integrated healthcare provider.
Bitter Sweet Earnings
On Jan. 5, 2023, Walgreens reported its fiscal Q1 2023 earnings report for the quarter ending November 2022. The Company reported a non-GAAP earnings-per-share (EPS) profit of $1.16, excluding non-recurring items, versus consensus analyst estimates for a profit of $1.14, a $0.02 beat. Revenues fell (-1.5%) year-over-year (YoY) to $33.38 billion, beating analyst estimates for $33.04 billion.
The Company took a (-$6.5 billion) pre-tax charge with the opioid litigation settlement. The Company gains $3 billion in after-tax cash proceeds from the sale of 19 million shares of Amerisource Bergen Corporation (NYSE: ABC) in the quarter. The Company faced a (-19%) headwind from the continued normalization effect of COVID and healthcare and labor growth investments. Comps in the U.S. rose 3.8% YoY and 4.6% internationally.
CEO Commentary
Walgreens CEO Rosalind Brewer commented, "WBA delivered a solid start to the fiscal year as we continue to accelerate our transformation to a consumer-centric healthcare company.
We're making significant progress in driving our U.S. Healthcare segment to scale and profit, including the recent VillageMD acquisition of Summit Health. Our core retail pharmacy businesses in the United States and the United Kingdom remain resilient in challenging operating environments."
Fiscal Full-Year 2023 Guidance
Walgreens expects full-year fiscal 2023 EPS between $4.45 to $4.65 versus $4.50 consensus analyst estimates. The Company sees full-year revenues between $133.5 billion to $137.5 billion versus $133.57 billion.
VillageMD
Walgreens continues to expand its clinic footprint through its completion of Summit. VillageMD now has over 680 locations across 26 markets in the U.S., with over 200 VillageMD clinics located inside Walgreens stores. Walgreens continues transforming into an integrated healthcare provider by providing basic primary care treatments, especially at its stores.
This is following the model set by CVS Health with their Minute Clinics. CVS went further to combine provider with payor in its $69 billion merger with Aetna insurance.
Lifting the Opioid Liability Cloud
While there are more minor opioid cases still pending, the settlement appears to have lifted a significant cloud moving forward with Walgreen's potential liability in the opioid epidemic. In that sense, the GAAP earnings miss for Walgreens may have been a blessing in disguise, taking charge upfront with the $5.7 billion settlement and other opioid-related expenses to move past this chapter. This could be the relief needed for sentiment to turn positive on the stock.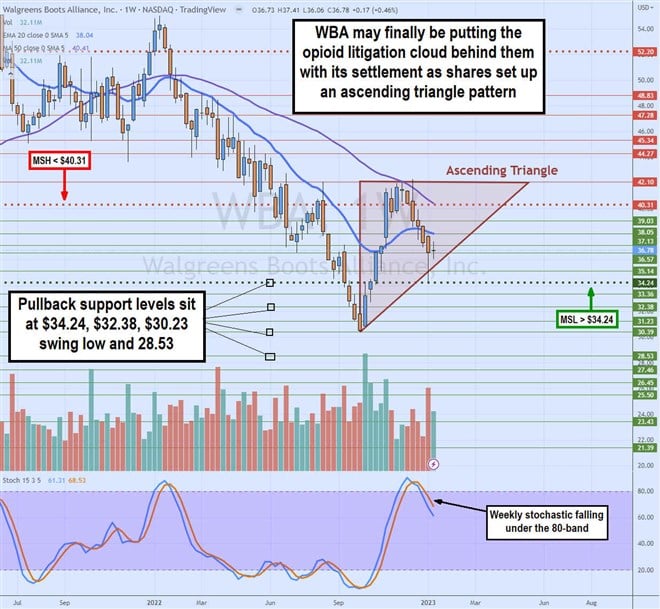 Ascending Triangle Pattern
The weekly candlestick chart for WBA depicts an ascending triangle pattern, which is comprised of higher lows on pullbacks meeting a flat line resistance at $42.10. The ascending triangle started to develop after a swing low of $30.39 in October 2022. Shares triggered the market structure low (MSL) buy signal on the breakout through $34.24.
The uptrend follow-through extended through the weekly 20-period exponential moving average (EMA) at $38.04 and tested the 50-period MA at $40.41. A market structure high (MSH) sell triggered the fallback under $40.31.
Shares fell to a lower high, as evidenced by the rising lower triangle trendline. Eventually, a breakout through the upper triangle trendline at $42.10 or a breakdown under the rising lower trendline will form as the stochastic falls back under the 80-band. Pullback support levels sit at $34.24 weekly MSL trigger, $32.28, $30.23 swing low, and $28.53.