(BPT) - The holidays are a wonderful time to make memories and enjoy activities with loved ones. Whether it's beloved traditions or spontaneous festivities, let nostalgic holiday flavors inspire your creations in the kitchen and beyond.
Cute, seasonal, and delicious PEEPS® Marshmallow candies are a perfect holiday treat. The limited-time holiday offerings are available in sweet shapes and festive flavors like gingerbread, hot chocolate and candy cane - sure to make the season extra merry.
These pillowy soft marshmallow treats are an adorable addition to your favorite seasonal recipes and crafts. From desserts to crafts to dioramas, there's no limit to how you can express your PEEPSONALITY® this holiday season. Get started by trying these two tasty recipes you can make and share with loved ones. To learn more and find additional inspiration, visit PeepsBrand.com.
PEEPS® Brownie Cupcakes
For a cute and quick holiday dessert recipe, make PEEPS® Duncan Hines® Brownie Cupcakes and decorate with bright sprinkles to set the mood for a fun and festive occasion!
Makes: 18 servings (1 cupcake each)
Ingredients:
1 package (18.3 ounce) Duncan Hines® Chewy Fudge Brownie Mix
1/2 cup vegetable oil
3 eggs
3 tablespoons water
1 container (14 ounce) Duncan Hines® Whipped Fluffy White Frosting
3/4 cup bright multicolored sprinkles
18 PEEPS® Brand Marshmallow Trees and Snowmen
Directions:
1. Preheat oven to 350 F. Place paper liners in 18 muffin cups.
2. Stir brownie mix, oil, eggs and water together in a large bowl until well blended, about 50 strokes. Divide batter evenly into muffin cups.
3. Bake 24 to 28 minutes, until toothpick inserted in center comes out clean. Cool on wire rack 10 minutes, remove from pans and cool completely.
4. Scoop about half of the frosting into a freezer bag or piping bag. Use the remaining frosting to frost the cooled cupcakes. Dip tops of cupcakes in sprinkles.
5. Cut off a corner of the bag about 1/2-inch wide and squeeze a small dollop of frosting on top of each cupcake. Place a PEEPS® Marshmallow Tree or Snowman in the center of each brownie cupcake and serve.
PEEPS® RICE KRISPIES TREATS™ Tree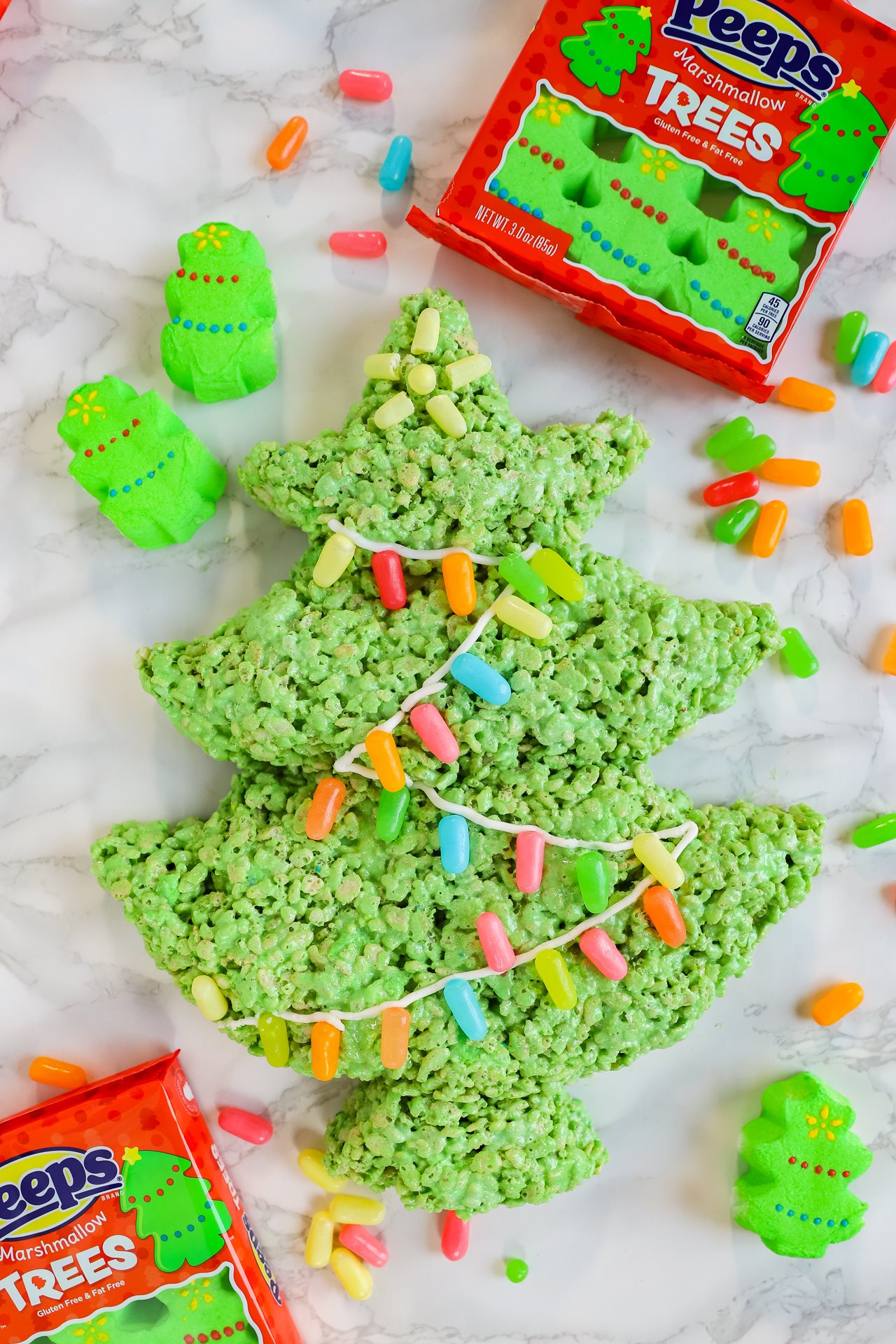 For a festive spin on a classic treat, make this adorable Christmas tree by Emily Hutchinson from The Hutch Oven using Kellogg's® Rice Krispies® Cereal and PEEPS® Trees.
Serves: 8 to 12
Ingredients:
30 PEEPS® Marshmallow Trees, reserve 6
6 tablespoons salted butter
6 cups Kellogg's® Rice Krispies® Cereal
Couple drops of green food coloring
Decoration ingredients
Buttercream frosting
MIKE AND IKE® Assorted Fruit Flavored Candies
Directions:
1. Melt butter in a glass measuring cup and put butter paper over the cup to prevent splatter. After melted, save the paper for later.
2. In a large, microwave-safe bowl, melt 24 PEEPS® Marshmallow Trees for 30 seconds. Add in the melted butter and stir, the PEEPS® Marshmallow Trees should melt since they have been warmed up and the hot melted butter should melt the rest. If not, give it a quick 15 to 30 seconds more in the microwave.
3. Add in a couple drops of green food coloring and stir.
4. Take the 6 reserved PEEPS® Marshmallow Trees and cut each one up into smaller cubes. Add them in the melted mix.
5. Stir in the Rice Krispies® Cereal.
6. Wrap a piece of cardboard with aluminum foil.
7. Working on top of the aluminum foil lined cardboard, take a chunk of the mixture and form the top of the tree, next take a bigger chunk and form the center. Reserve a small amount for the trunk and take the remaining PEEPS® Rice Krispies Treats™ mixture and form the bottom. Lastly, attach the trunk.
8. Take a little bit of frosting in a piping bag with a tip 5 attached, or simply cut a small hole in the bag. Pipe a tree light line down the tree.
9. Take MIKE AND IKE® candies and place them on the line to make the light.
10. Cut into pieces or break off chunks to enjoy.
Note: Use extreme caution when heating PEEPS® Marshmallow; they may be hot. Handle with care.