The artist has been recognized as a distinguished writer, photographer, and public servant, valued for his constant creativity and support for the community.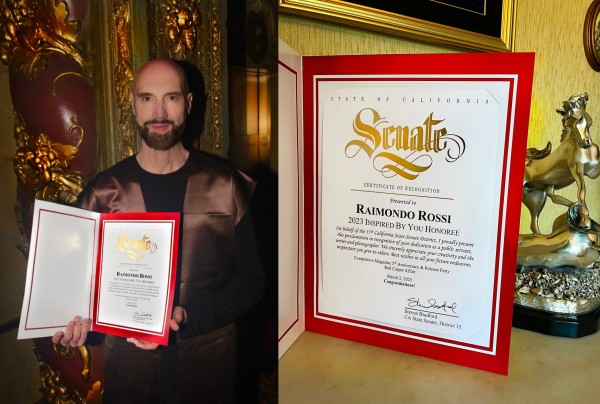 Umbrian-born fashion photographer Raimondo Rossi (a.k.a. Ray Morrison) was honored in California for his extraordinary photographic artistry and distinctive style on the occasion of the fifth anniversary of Compulsive, a prestigious New York magazine distributed in the United States and abroad. Last year, Ray Morrison's "legendary world of art and style" caught the magazine's attention overseas, earning him the cover of its eighth issue.
Photographed by GQ, Vogue and The New York Times for their Style Icons sections, Ray Morrison is not only one of the world's most sought-after fashion photographers, but also a celebrated man of style. His images celebrate diversity, emphasize details, highlight the authenticity and personality of his subjects, chronicle discrimination and injustice, and promote inclusion. Photographs that go far beyond the image, capturing the essence of the subjects. Photographs that leave their mark and evoke immense emotion, thanks to Morrison's sensitivity and creativity. His leitmotif? Giving a voice to those who have none through evocative images. It is precisely these characteristics, as well as his versatility and elegance, that have led Raimondo Rossi to be recognized in the States.
The fashion photographer received the Inspired By You Award at Compulsive magazine's awards ceremony in West Hollywood, California, at the N10 Club restaurant owned by Italian soccer world champion Alessandro del Piero.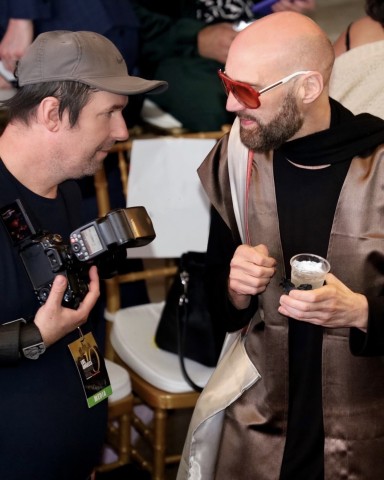 In presenting the award to Ray Morrison, Dr. Cookie Humphrey (CEO of the magazine and creator of "Inspired By You") said: "From Italy to the United States, he has appeared on the covers and pages of countless magazines, creating an unmistakable signature in the fashion world. Through the lens of a camera, he is able to capture the beauty of others. As a fashion photographer, he creates masterpieces such as his Vogue Collection. He was also featured on the cover of the eighth issue of Compulsive magazine. Ray was supposed to receive this award last year, but Covid made it difficult for him to leave Italy. Ray, we hope you receive this award with grace and heart".
Raimondo Rossi, published by NZZ, Rolling Stone and Vogue, was the international guest and took the stage to thank Dr. Cookie for this important award. Ray Morrison was joined by actresses Paige Hurd, Dani and Dannah Lane, musician Chad Watson, artist and photographer Silvia Santos and Getty photographer Arnold Turner.
To the surprise of those in attendance, the honorees received certificates of appreciation and additional recognition from Adam Bennett Schiff, of the U.S. House of Representatives. Schiff noted: "Your creative leadership and contributions to your community are immensely valued, and I send my warmest compliments on this honor. Congratulations once again!"
But it doesn't end there. Along with the Inspired By You award recipients, the celebrated photographer received a proclamation from California State Senator Steven Bradford: "On behalf of the 35th California State Senate District, I proudly present this proclamation in recognition of your dedication as a public servant, writer and photographer. We sincerely appreciate your creativity and the inspiration you give to others. Best wishes in all your future endeavors. Congratulations!".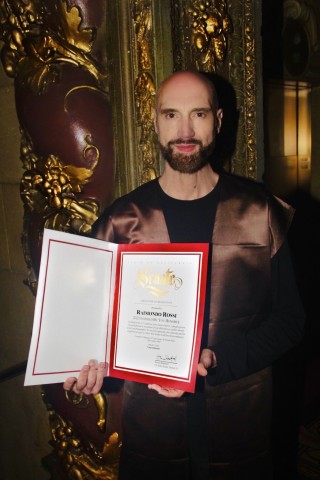 With great satisfaction and immense gratitude, Raimondo Rossi said: "I cannot find the right words to express how much I appreciate this proclamation, which came as a surprise from the California State Senate and the U.S. Congress! I thank Senator Steven Bradford, Congressman Adam Schiff, Dr. Cookie Humphrey and Ms. Silvia Santos. Their words are a joy to me that crowns all the work I have done over the years. I dream of contributing to the birth of a more just and welcoming society for all by doing what I can in fashion and photography. These proclamations are a source of energy and happiness".
Credit photos: Denni Christopherson, Silvia Santos
Media Contact
Company Name: Get Celebs News
Contact Person: Ruben Smith
Email: Send Email
Country: Italy
Website: www.milanweekly.com