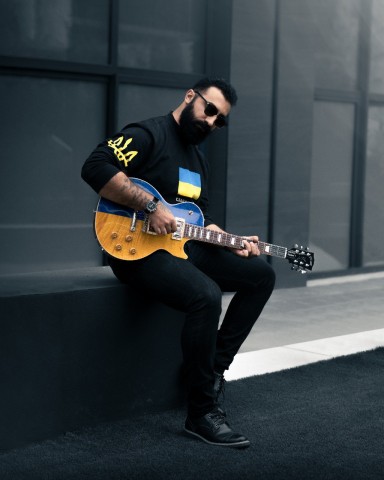 Aryan J. King is a singer, songwriter, music producer, and professional guitarist with a passion for hard rock and blues. Having played in his first concert at the age of seven, unleashed an intense enthusiasm for music. The aesthetic need for a skilled essence of music drove him three times to Berklee College of Music to study Songwriting, Music Production, and Music Business. Later, during his research trip to the University of Rochester, he added Audio and Music Engineering to his qualifications. Aryan believes that music is the greatest sound in the world.

This song recently released by Aryan J. King is a Ukrainian anthem that he has re-produced in a Blues and Rock version. It has a strong motivating, adrenaline sense to it, and it can be utilized as a soundtrack for movies, media, and so on. This is a 100% charitable endeavor, thus all streaming, all money gained from concerts, viewers, streams, advertisements, and contributions go to refugees and to support Ukraine's Victory!
And another important thing is Gibson.com Gibson Guitars and Gibson Gives produced an extremely unique piece of the instrument which is a guitar with a Ukrainian flag that only a handful of them exist in the world and was played by Slash, Paul McCartney (Beatles), and Mark Knopfler (Dire Straits). Gibson produced and sent Aryan King the guitar so that he could film, perform, and perhaps get President Zelenskiy to sign it before auctioning it off and donating the proceeds to Ukrainian charity.
Aryan J. King, who was born in Madrid to a loving family with a musical history, has an inborn love of music and its various genres. His father began teaching him flamenco guitar when he was three years old. Aryan's childhood memories are enriched by his musical endeavors, such as recording a Hip Hop song using an ancient MP3 player and microphone. He was a big fan of Hip Hop culture until he heard Gary Moore's "Parisienne Walkways" and Guns N' Roses' "November Rain," which changed his life and inspired him to become the best blues guitarist in the world.
Aryan J. King has done ghostwriting and ghost-producing for world-famous performers throughout his musical career. In reality, the year 2017 marked the beginning of a new phase in his life, as he began creating his own record. It wasn't until September 28, 2019, that he went into the studio for the first time to record his own song with his own production. It was a complete success since he attracted a big global audience via YouTube. He is now preoccupied, as he uncaps his pen every morning to write down the new tune he intends to record and produce."
Media Contact
Contact Person: Aryan J. King
Email: Send Email
Country: Spain
Website: https://aryanking.com/