Helping to solve the world hunger crisis comes down to a simple initiative. Make food safer and allow it to last longer. In turn, billions of pounds of food currently wasted each year have a better chance than ever of making it to consumer's tables. Save Foods, Inc. (NASDAQ: SVFD) is on point to make that happen. In fact, its innovative environmentally-friendly food-saving technology could put a significant dent into food waste by protecting fresh fruit and vegetables from microbial spoilage and food-borne pathogens responsible for decay and food-borne illnesses. And their contribution isn't going unnoticed.
Save Foods is already working with Israel-based produce giant Galilee Export, the country's second-largest distributor of fruits and vegetables. And that deal brings opportunities from Galilee's $180 million a year business. Better still, it's a proving ground for potentially more significant deals to come, with Save Foods showing that if a near $200 million company trusts its food-saving and preserving technology, that it's ready for the global stage.
The opportunities beyond what Galilee can deliver are tremendous. In the United States alone, estimates suggest that roughly 229 million tons of food, worth about $408 billion, never make it to the hands of consumers. And while that's a high enough number, it's only a part of the total 1.3 billion pounds lost to decay and microbial-induced spoilage. In fact, the United Nations reports that food losses and waste reach upwards of $680 billion in industrialized countries and $310 billion in developing countries. Indeed, there's a need for speed in addressing the issue. And Save Foods, Inc. is in the race to make a difference.
The more excellent news- they may be winning. SVFD is already leveraging the results of its food-saving innovations from nine pilot projects that helped build five commercial partnerships across the globe. They expect more in the coming months, and its expansion into Turkey earlier this month puts its European expansion plans into a higher gear.
In-play is earning a sizable share of the $2.3 billion post-harvest treatment market. And it's a goal already in its business crosshairs.
Innovative, Eco-Friendly, Food Saving Technology
Even better, they have both the team and technology to hit their target. Already, its best-in-class, safe "green" products are showing tremendous results protecting fresh fruit and vegetables from microbial spoilage and food-borne pathogens responsible for decay and food-borne illnesses. Better still, it's doing its job while simultaneously reducing or eliminating the harmful residues often found on produce, a substantial advantage compared to products where "wash off" contaminates the environment. The bottom line- food stays fresher, longer, and more of it gets to the market. Better yet, more people can eat.
Indeed, SVFD's market timing couldn't be better, and with seven patents protecting its food-saving technology, SVFD is well-positioned to penetrate markets and protect its share. Moreover, because its food-saving products don't leave residues of toxicological concern on treated produce surfaces, and with its ingredients recognized by the USDA and FDA as Generally Recognized As Safe (GRAS), SVFD has competitive advantages that could make its products the choice among farmers, wholesalers, and retailers worldwide. As noted, they have access to a great start with Galilee Export.
Yes, SVFD is in business to make money for its shareholders. But, at the same time, helping feed the more than one billion people per day that go hungry is a priority as well.
That need may get lower with the help of companies like SVFD, but it's not going away anytime soon.
Food safety And Preservation More Needed Than Ever
That's especially true as estimates suggest the world's population can surpass 10 billion people by 2050. Today, it stands at roughly 7.8 billion people. Hence, that expected 28% increase can substantially impact how much more food is needed. It's not an apples-to-apples comparison by any means. A 28% rise in population could translate into billions of pounds of extra food required. That's the easy part of the consideration. Finding the land to produce the food is the more significant issue. Farms worldwide are already nearing maximum output, putting the world on notice to find ways to protect the quality and longevity of the food harvested.
That discussion is happening now. But, expect the volume to get louder as the global organizations contribute their influence to the issue. Ironically, facing the issue head-on isn't that complicated. A small handful of companies, like SVFD, are already offering cost-effective solutions that could bring meaningful savings as early as the next harvest. Even better, SVFD products are not only an excellent means of protecting food, but it's also available today.
Better yet, SVFD's innovative products not only keep food safe and fresher longer, but its formulation is also all "green," making it suitable for use anywhere, anytime. In fact, its blend of food acids and oxidizers is more than safe; it's proven to reduce the bacterial and fungal attacks on food, leading to higher quality and optimum utilization of the food it protects. Hence, more food remains available to global markets. It's a clear win-win proposition.
Further, SVFD products doing earn patents by being ordinary. Instead, they proved their ability to increase product shelf life by significantly minimizing bacteria and fungus on treated foods while leaving a residue level well below competing and potentially toxic treatments. In other words, SVFD products don't harm the environment and almost entirely mitigate fungal and bacterial decay.
The combination is a significant competitive advantage. Plus, SVFD products are odorless, don't cause skin irritation, and are easy to administer. Thus, it clears the barriers of entry that many of its competitors still face from using potentially toxic ingredients to treat fruit and produce.
And from a consumer and investor perspective, SVFD is positioned to deliver value.
Driving Value To The Table And Portfolios
Part of that value will be generated from its seven patents that can create and protect business opportunities from worldwide demand for fresh produce is stronger than ever. The better news is that it's a demand that will never go away. Safe and abundant sources of food will remain in fashion for generations to come. Still, it's essential to recognize that demand is only part of the equation. People need access and available products to complete the loop. One can't go without the other, and if it does, the imbalance translates to what is happening today- billions of pounds of food go to the landfills.
Hence, there's no need to wait until tomorrow for the world to make a better choice. Use a company like SVFD today to facilitate getting food into the hands of consumers with a delicate balance of maximizing yield and shelf life while minimizing the use of harmful chemicals. It's a valid proposition. It also aligns well with the market opportunity to protect food, feed people, assist exporters, and maximize opportunities for retailers. Hence, it's a multi-dimensional business strategy that has far-reaching and potentially lucrative rewards both financially and on a humanitarian level.
The excellent news is that SVFD is making that happen today by showing that its produce treatment products increase yield, extend shelf life, and help get substantially more products to consumers, wholesalers, and retailers. Even better, they are doing so by using safe, FDA GRAS ingredients, a vital component to accelerating its pace of market penetration.
The results are impressive. Already, the Safe Food blend reduces rot up to 50% compared to untreated fruit sold at the retail level. And that translates to more food for people and higher profits for sellers. Moreover, it's an ingredient for business success that could generate additional partnerships that drive revenues higher sooner rather than later.
Better still, customer challenges are SVFD's opportunities. And by taking on those challenges with potentially industry-changing technology, this $8.00 company could turn into a global food-saving juggernaut.
And just as important as its products, they have the leadership to get it to market.
Leadership, Partnerships, And Global Opportunities
A considerable addition to its team is the addition of Mr. Dror Eigerman, who joined SVFD's Advisory Board in 2021. He's the CEO of Galilee Exports, which could facilitate SVFD tapping in substantially to their $180 million a year business. Keep in mind, Galilee is not only the middleman; they also coordinate the resources of more than 70 farms under four different organizations. Mr. Eigerman oversees the growing and shipping of over 75,000 tons of produce to buyers worldwide. Hence, SVFD is ideally positioned to earn business from those at the ground and post-harvest levels.
As noted, the dollars in play are massive, too. Galilee posts revenues upwards of $180 million per year. Thus, SVFD is in the right place to benefit from an enormous near-term business opportunity and is elevated to the top tier for food safety and preservation providers through that association. Simply put, if SVFD can be trusted to protect the assets of a business the size of Galilee, expect others to follow. Big companies tend to follow the lead of respected competitors. Consider it similar to analysts covering stocks. It only takes one opinion to create a rally.
And noting a rally, SVFD showed it can do that, too. Late last year, SVFD stock rose from $5 in November to $30.10 by February 2021, a 500% increase. Today, with broader market weakness tending to pull even great companies lower, its stock has not been spared. But, with shares trading at $8.02 at the end of last week, significant upside from new deals made could be forthcoming. Know this, too. News could create a run on shares as SVFD is thinly traded in a hot sector.
And with only about 2.8 million shares outstanding, new investor interest could send prices soaring. That interest would be met with insiders owning about 22% of the stock and institutions holding approximately 14%. Hence, getting shares out of tight hands may be a difficult proposition. But, if shares are bid higher, retail may let go of some. Still, history shows that when SVFD catches a bid, it's off to the races.
Plus, SVFD is already positioned to grow in value, especially when compared to its peer competitors. The chart below shows the valuation gap.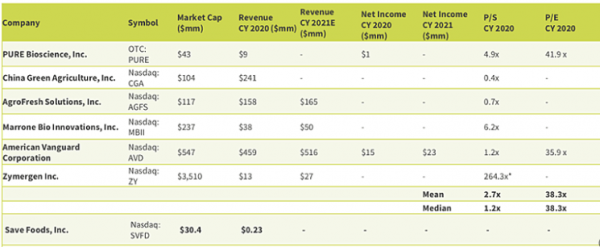 Remember, too, that's a historical perspective. SVFD is exceptionally well-positioned to generate new business from a number of clients. With its "green" treatment products commercially validated on citrus fruits, mango, avocado, pears, bell pepper, microgreens, and various fresh-cut vegetables, that's more likely than not. Better still, SVFD is in the validation process for bananas, apples, figs, berries, lettuce, papaya, and more. Hence, they are well into finding their place inside billion-dollar food markets. Best of all, they all need to protect their assets.
And with eco-friendly post-harvest treatments for fruits and vegetables reducing the need for conventional post-harvest fungicide by at least 50%, SVFD may be the company they turn to. After all, getting the job done in an environmentally safe fashion is attractive to everyone in the decision-making process.
Thus, SVFD can take advantage of a perfect storm of opportunity.
Best-in-Class Treatments To Capitalize On Market Opportunity
In fact, by helping the food chain, promoting safe and clean foods, reducing client costs, and justifying a compelling investment opportunity, SVFD covers the bases for business, society, and investment. Moreover, with expansion into Turkey last week that broadened its European exposure, excellent leadership, patent protections, and a potentially massive deal with a $180 million client, SVFD is in its best position ever to create significant shareholder value.
Notably, while produce may be seasonal, it's 100% continuous, taking the seasonal rotation out of the trading consideration. And by matching that market availability with best-in-class products, SVFD can become one of the market's safest and most preferred post-harvest treatment trade.
Thus, although SVFD shares are off their highs, news from its growing portfolio of clients could ignite a rally higher. If history is a guide, the moves can be swift and substantial. Hence, opportunity today could be gone tomorrow, making consideration in SVFD both a timely and compelling consideration.
And with SVFD attractive from an environmental and investment perspective, the combination, supported by headlines, could help produce more than excellent fruits and vegetables; its stock may as well.
Disclaimers: STM, LLC. is responsible for the production and distribution of this content. STM, Llc. is not operated by a licensed broker, a dealer, or a registered investment adviser. It should be expressly understood that under no circumstances does any information published herein represent a recommendation to buy or sell a security. Our reports/releases are a commercial advertisement and are for general information purposes ONLY. We are engaged in the business of marketing and advertising companies for monetary compensation. Never invest in any stock featured on our site or emails unless you can afford to lose your entire investment. The information made available by STM, Llc. is not intended to be, nor does it constitute, investment advice or recommendations. The contributors may buy and sell securities before and after any particular article, report and publication. In no event shall STM, Llc. be liable to any member, guest or third party for any damages of any kind arising out of the use of any content or other material published or made available by STM, Llc., including, without limitation, any investment losses, lost profits, lost opportunity, special, incidental, indirect, consequential or punitive damages. Past performance is a poor indicator of future performance. The information in this video, article, and in its related newsletters, is not intended to be, nor does it constitute, investment advice or recommendations. STM, Llc. strongly urges you conduct a complete and independent investigation of the respective companies and consideration of all pertinent risks. Readers are advised to review SEC periodic reports: Forms 10-Q, 10K, Form 8-K, insider reports, Forms 3, 4, 5 Schedule 13D. For some content, STM, Llc., its authors, contributors, or its agents, may be compensated for preparing research, video graphics, and editorial content. As part of that content, readers, subscribers, and website viewers, are expected to read the full disclaimers and financial disclosures statement that can be found on our website by visiting primetimeprofiles.com/disclaimer.
The Private Securities Litigation Reform Act of 1995 provides investors a safe harbor in regard to forward-looking statements. Any statements that express or involve discussions with respect to predictions, expectations, beliefs, plans, projections, objectives, goals, assumptions or future events or performance are not statements of historical fact may be forward looking statements. Forward looking statements are based on expectations, estimates, and projections at the time the statements are made that involve a number of risks and uncertainties which could cause actual results or events to differ materially from those presently anticipated. Forward looking statements in this action may be identified through use of words such as projects, foresee, expects, will, anticipates, estimates, believes, understands, or that by statements indicating certain actions & quote; may, could, or might occur. Understand there is no guarantee past performance will be indicative of future results.Investing in micro-cap and growth securities is highly speculative and carries an extremely high degree of risk. It is possible that an investors investment may be lost or impaired due to the speculative nature of the companies profiled.
Media Contact
Company Name: STM, LLC.
Contact Person: Michael Thomas
Email: contact@primetimeprofiles.com
Phone: 973-820-3748
Country: United States
Website: https://savefoods.co/